Who Landscaped Los Angeles?
By Karl Gerber
---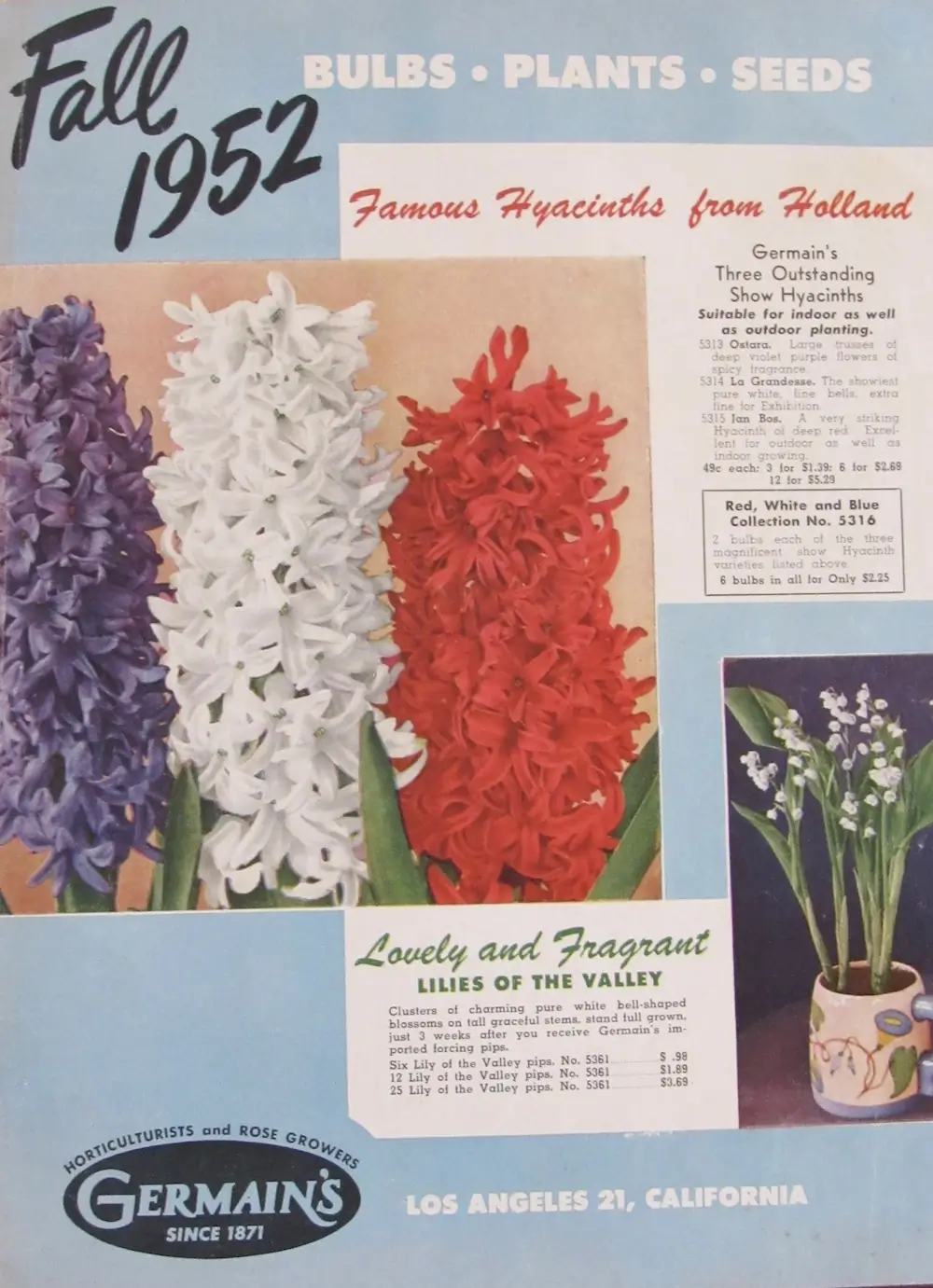 Since the beginning, Los Angeles boosterism revolved around the myth of a temperate climate sustaining all varieties of year-round flora and fauna. Underlying the mirage of spectacular claims, half-truths, and the largest suburbanization of any metropolitan city was Germain's, a business started by a Jewish immigrant who ceased to operate the business more than eighty years before it was sold to the English in 1990. The business itself is the embodiment of Los Angeles, and its Western movement that became a Northwest migration into the San Fernando Valley. Was there really a time in Los Angeles when men and women reached nirvana, dressed up roaming through a 12-20 acre nursery complete with a waterfall running down Mary Ellen Avenue, a plaza of rose plots separated by concrete paths and Camellia gardens inside an arcade surrounded by archways, and a pearly gated entry with a sign reading, "6311," in what is today Valley Glen? And who visited the elegant downtown showroom that featured seeds, plants and soil in display cages, bird cages, and veterinary services on the second floor?
Eugene Germain was born November 30, 1849 in Switzerland. He arrived in Los Angeles in 1869. He claimed to study at a Swiss university. First in Los Angeles he opened a restaurant. In 1874 he opened a grocery and poultry business located at 128 N. Main Street in Los Angeles that did both retail and wholesale business. Nonetheless, Germain's Seed Company claimed it originated in 1871.
In 1872 Eugene Germain married Caroline Sievers. Sievers' aunt was married to Harris Newmark. Harris Newmark's influence is beyond the scope of this article. Suffice it to say he claims he was the second Jew to come to Los Angeles, founded the first Los Angeles library, brought the railroad to Los Angeles, formed the City of Monrovia before selling it to Lucky Baldwin, once owned the land where Los Angeles City Hall stands, and authored Sixty Years in Southern California 1853-1913 which is considered the most authoritative writing on Los Angeles' early period.
The tale of Eugene Germain is unreliable. Some of the unreliability may be a direct result of the truth Eugene Germain wanted everybody to know. However, the Los Angeles Heard Examiner reported contrary facts, including his death. His own family also published incorrect information. Some sources claim Eugene and Caroline had five children: Edmund, Clare, Marc I., Henry, and Lillian. Other sources claim there were four children. Whether Edmund was also Edward is unclear. It is inherently unlikely Edmund would have been named Edward because Eugene's brother was Edward. Under Judaism the newborn cannot adopt the names of the living. Edward Germain was alive and well when Edmund was born, and ran the Germain Wine Company. By 1887 he is reported running a wholesale liquor business at 42 S. Spring Street. There is, however, enough out there to wonder who a younger Edward Germain was. At times, news reports seem to report a child named Edward. This person does not seem to be associated with Eugene Germain by the time of his death. In 1904 an Edward Germain was accused of kidnapping his five-year-old son, taking him to New York during a divorce, and later fleeing to Europe. Eugene Germain's life had many hiccups.
Following the collapse of the Temple and Workman bank in 1879, the collapse that allowed Isaias Hellman to formally run his first bank along with an inept gentile partner because a Jew could not formally run a bank yet in Los Angeles, Germain declared bankruptcy. Eugene Germain also published a racist newspaper advertisement in favor of the Chinese leaving the area. Finally, at the time of his death, his wife was living in Switzerland while he lived in Los Angeles.
In 1882 Germain formed the Germain Fruit Company. He had packing houses throughout greater Los Angeles, including in Pico Rivera, Santa Ana, Riverside, as well as in Sonoma in Northern California. He became President of the Los Angeles Fruit Exchange and was a dominant figure in that industry. He was also President of the Los Angeles Board of Trade and a Vice-President of the Los Angeles Chamber of Commerce. In 1885 Germain's company began doing mail order seed business, and continued to do so until 1990. In 1889 the company became Germain Seed & Plant Company.
In 1889 Germain became Chairman of the Democratic Party in Los Angeles. The same year he was also reported as a stockholder in Security Savings Bank and Trust on 40 South Main Street along with Isaias W. Hellman.
Security Bank was the second iteration of the Farmers and Merchant's Bank that Isaias W. Hellman started after technically starting the first bank of Los Angeles out of his cash register. Security Savings Bank ultimately became Security Pacific before it merged with Bank of America in 1992. This was the largest banking merger in history up until that point. By 1890 the seed company occupied 32,000 square feet on Main Street. It was the largest seed company West of the Mississippi. In 1893 President Cleveland appointed Germain Consul of Switzerland. Germain held the position for six years often traveling back and forth to Switzerland. Eugene's son, Edmund was left in charge of the business during his father's absence. At the time, the business was located on Main Street. It is unclear whether Eugene Germain ever again ran the seed company.
In 1906 it was reported that Eugene Germain had five office buildings. The Los Angeles Herald reported at the time of his death he had $400,000 of property on Spring Street that had a $350,000 mortgage on. He allegedly owned 230-232 South Spring Street. However, 1907 building records indicate a musical club and somebody else owned the building. 1908 building records indicate, "Germansky" owned the building. There has never been any indication Germain was Germansky. By 1952 the Times Mirror owned the building. Today 230 South Spring Street is a parking lot. Sources claim before his death Germain built the Germain hotel and other structures on the property that was once his home. This seems inaccurate. Much of what the Homestead Museum reports about Germain is inaccurate.
An example of the differing accounts of Eugene Germain's death include it reported that in 1908 Germain died of heart failure at his home located at 957 South Hope Street in Los Angeles. It cannot be verified Germain or a home ever occupied this address. The Los Angeles Herald claims he died in February of 1909, in Europe. However, the February 20, 1909 Los Angeles Herald has Germain being embalmed the previous day, and his wife on her way back from Zurich.
The Sacramento Daily Union reported he died February 18, 1909 after suffering 10 days with an illness. He was reported as being 60 at the time of his death. February 26, 1909 funeral services were held during the afternoon at the home of Henry S. Baer, brother-in-law of Mr. Germain, at 741 West Washington Street. In the Jewish faith, eight days after death is a long time later to hold funeral services. It is reported Caroline was still in Zurich where she had resided for several years.
It is claimed Marc Germain took over the nursery business after his father's death. Other sources claim he was not in California. Caroline died in 1910. By August of 1911 Germain's children were all in Europe or New York. MANFRED MEYBERG ACQUIRED VAN NUYS LOCATION ON ETHEL FOR GERMAIN'S NURSERY SHOWROOMS AND GROWING FACILITIES Manfred Meyberg was born in Los Angeles in 1886 to Isaisac Hellman's daughter. Meyberg allegedly started at Germain's as an office boy when he was 19. Given Isaisac Hellman's great wealth, the fact he donated the land for USC, was a Regent for years, and also involved in Stanford it is puzzling that his grandchild would have been an office boy, not in the banking business, and not attending university. It is claimed, as a boy Meyberg earned spending money growing dahlias and other plants in his Los Angeles backyard and then selling bulbs to neighbors. He allegedly attended Polytechnic High School in Los Angeles. By 1915 Mayberg was the Secretary of the company, and then President. In 1922 Meyberg and Walter Schoenfeld bought 100% of the stock in the nursery. Although the business was called Germain's until the end, most of its greatness was due to Mayberg.
Sources claim the Germain Seed Company purchased former Rancho Floravista in an area often confused between Van Nuys and North Hollywood. There is no record of a rancho that was conveniently called Floravista. The area was, and continued to be, poultry until the late 1940's, 1950. Valley College was a poultry farm. There were also smaller poultry farms South of Burbank on Ethel, and on Chandler Boulevard. On Ethel, by Germain's, the streets were laid out. In 1924 there was an intent to pave Ethel Avenue in this area through Sherman Way. During the time of Germain's operation on Ethel, there were extant homes on various portions of Ethel Avenue between Victory and Oxnard as well as addresses inconsistent with the Van Nuys location of Germain's bring further mystery to the tale.
While Germain's ultimate address 6311 Ethel Avenue would place it closer to Victory Boulevard, maps in advertisements always claimed it was much further South of Victory. In fact, a house not owned by Germain's was permitted at 6311 Ethel in 1944. The 1945 phonebook has Germain's at 6133 Ethel. So does a 1942 building permit. Germain's clearly went from Erwin going South, Atoll to the East, Ethel to the West where the Valley Glen Park currently sits. We believe the boundaries also included the cul- de-sac along Mary Ellen that starts at the South entrance of the park and goes West on Aetna even though that section of Aetna was developed as a tract and Mary Ellen seems to have been sold lot by lot. Some claim Germain's location in Van Nuys was 10 acres; others claim 20.
January 20, 1926 the Germain Seed Company applied for a building permit on the sandy soil of 6305 Ethel Avenue (North of Sylvan) in Van Nuys, not far from the Los Angeles River, to erect either a 51 by 200 or 51 by 900 lath house. A lath house is a structure without walls used to house plants.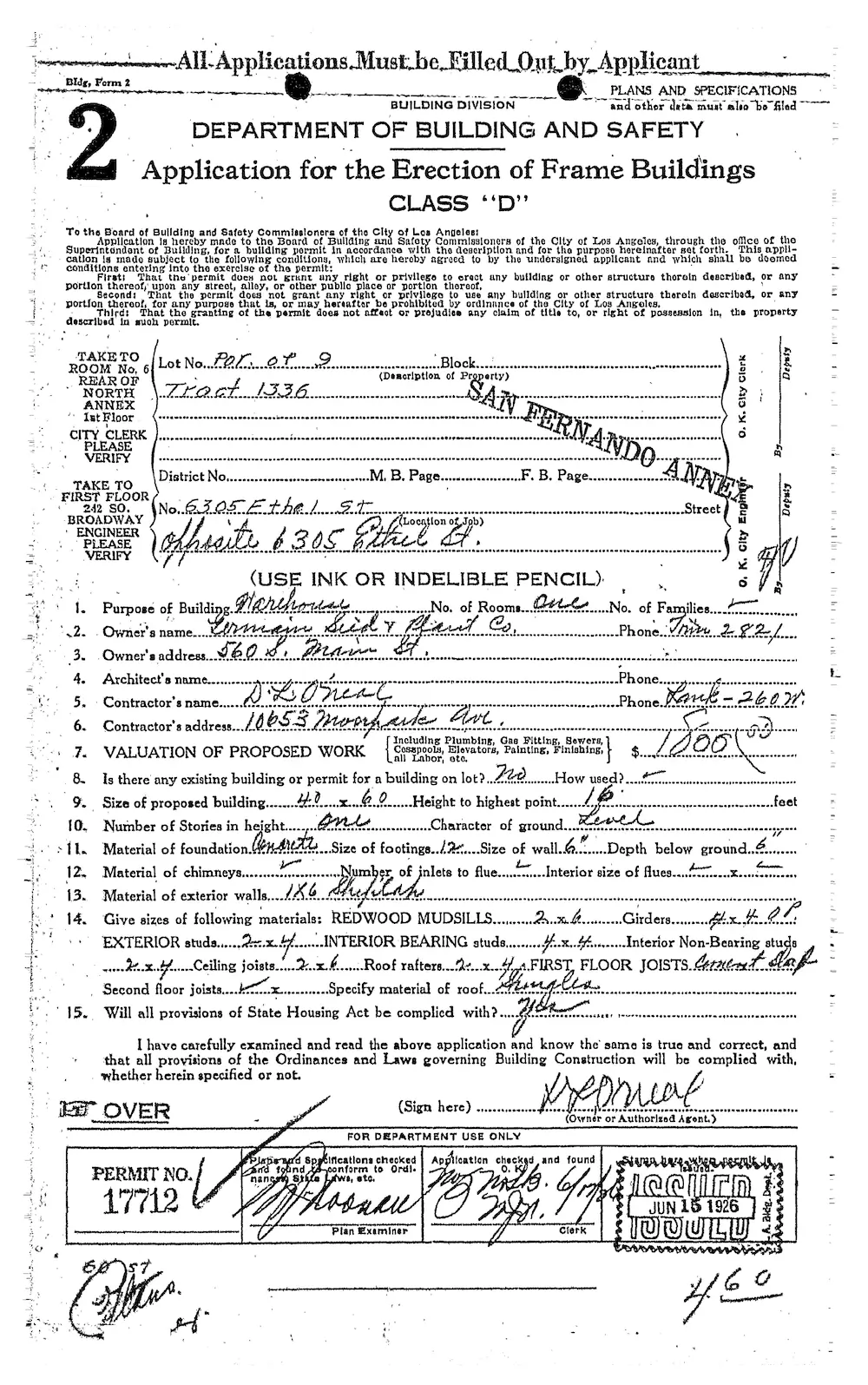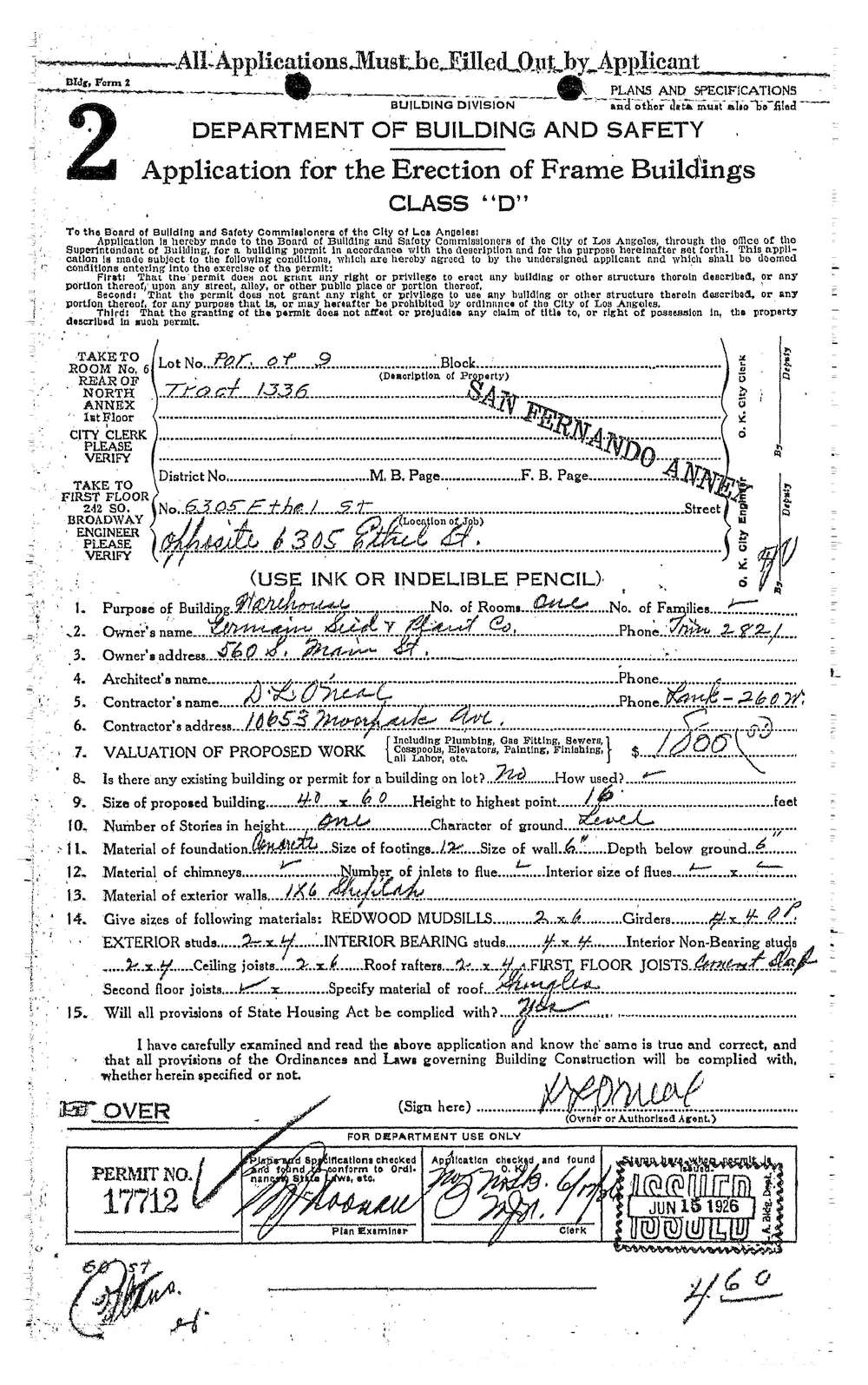 June 15, 1926 Germain Seed and Plant Company applied for a building permit to build a 40 by 60 warehouse. The warehouse was to be used only for storage of crates and equipment needed for the nursery. The company's office was listed as 560 South Main Street. September 23, 1925, Germain's applied for a permit for a 6 foot by 42-foot sign on this 10-story office building. Germain's probably began doing business in Van Nuys in 1926. The February 1, 1929 the Van Nuys News contains a Germain's advertisement. It states there will be 2,500 potted plants in celebration of their opening (although this could be for a Spring sale). The advertisement contains a map showing the nursery South of Victory. GERMAIN'S NURSERY SHAPES THE SUBURBAN NORM OF THE SAN FERNANDO VALLEY February 22, 1929 Germain's placed an advertisement in the Van Nuys News that stated,"WE BELIEVE in the San Fernando Valley. We have established this new industry in your midst because we foresee a great future for this entire section and all connected with it. It is to the advance of all that the Valley be made beautiful. Flowers, Roses, Shrubs, Trees will do it. Plant your share. We are doing our bit to help you by reducing pries as much as possible! SPECIAL 'VALLEY' PRICES WILL APPEAR IN THIS PAPER EACH WEEK." Germain's knew they were on the edge of the behemoth of all suburbia.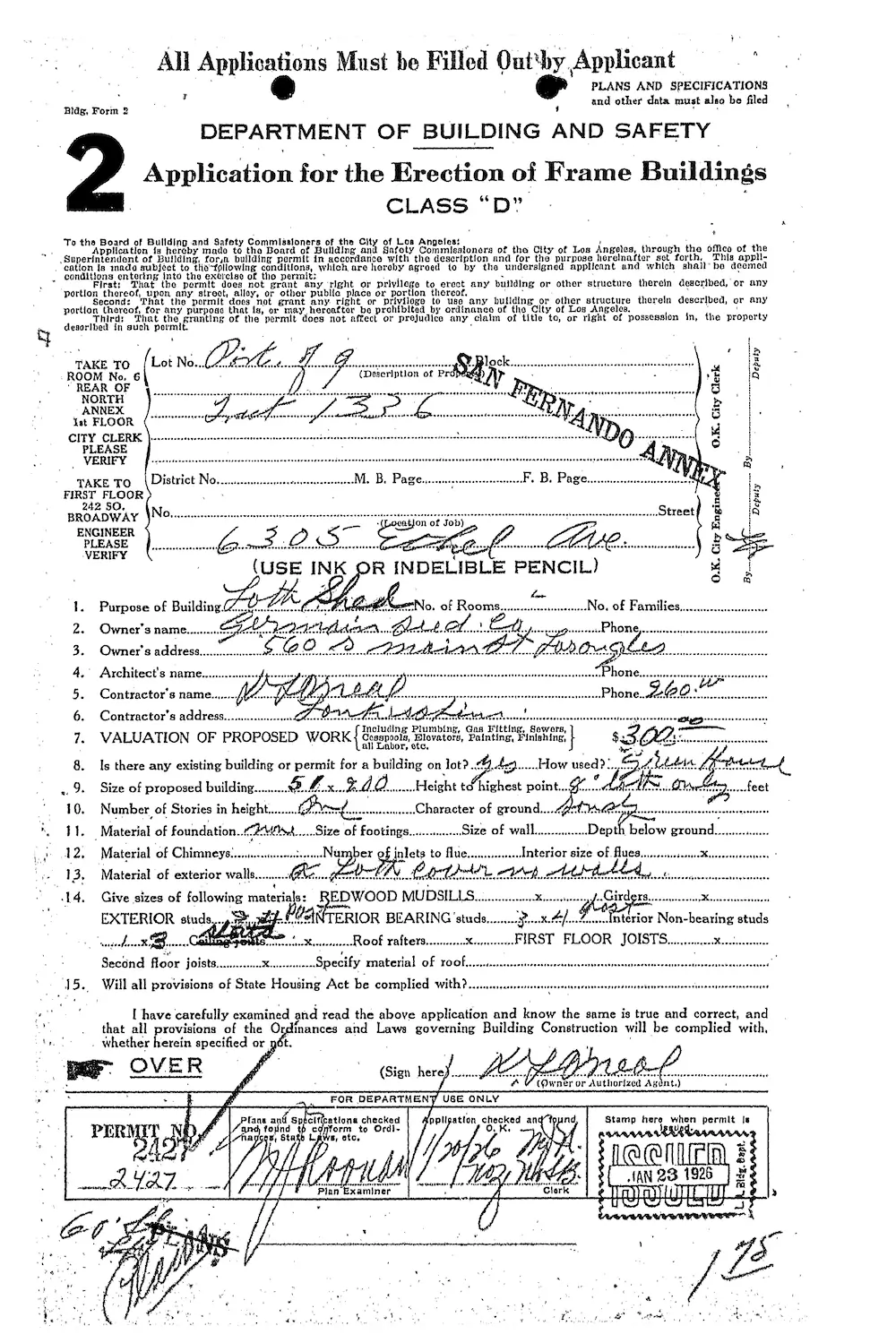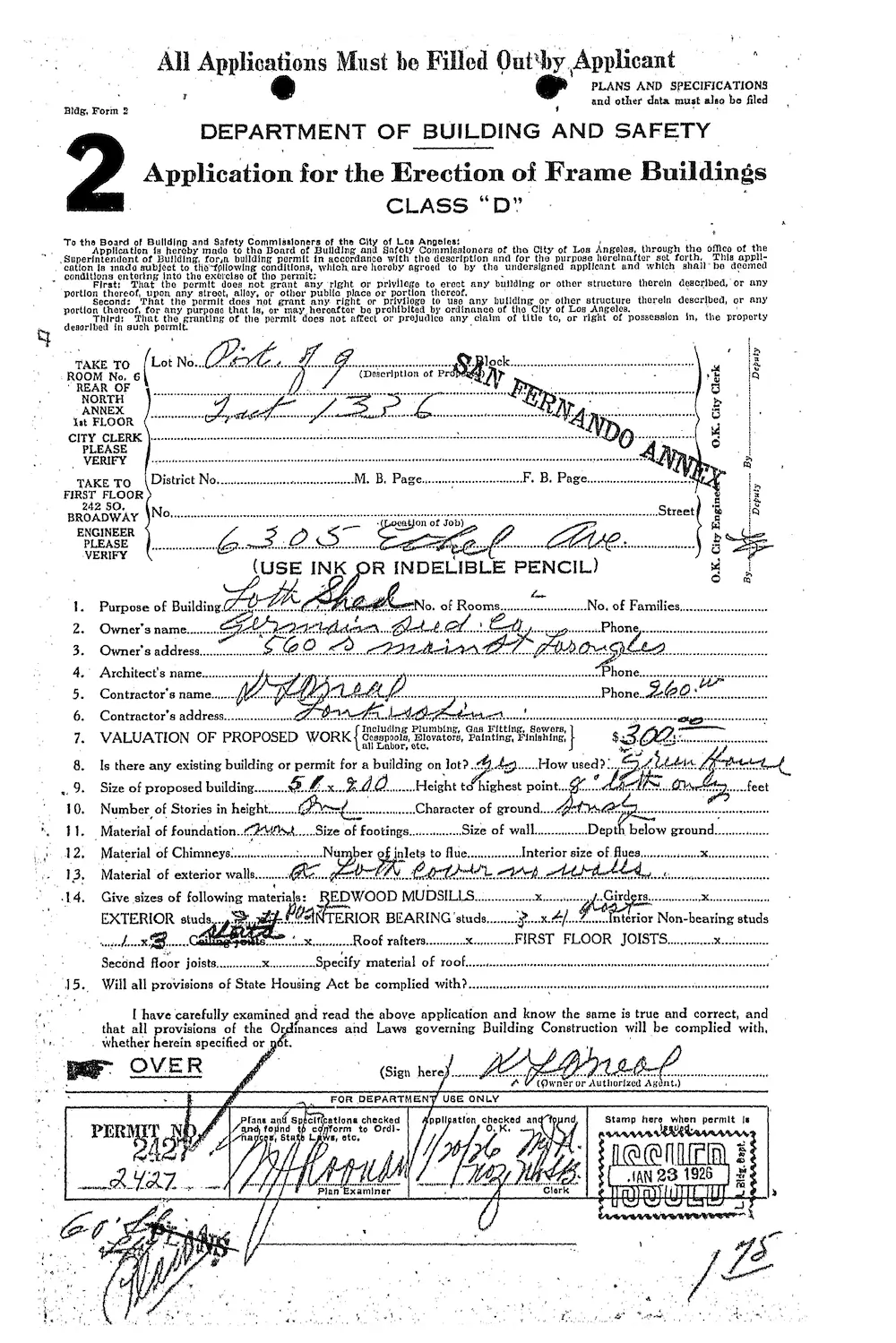 Between 1928 and 1960 the San Fernando Valley changed from primarily agricultural to the greatest number of small lot tract homes on the West Coast. The diminution of lot sizes, haphazard gardens, water reserved for farming, and an inability to landscape multiple acres yielded to a status quo of manmade gardens. The fauna and flora of Los Angeles had always been part of Los Angeles' booster campaign. Even in the late 19 th Century, essays appeared in national magazines boasting of beautiful flowers capable of being grown in Los Angeles. Germain's 1929 advertisements were no exception. Similar to Senator McClay's prophetic words upon first visualizing the San Fernando Valley, Germain's advertisements stated the climate and soil of the San Fernando Valley was ideal for growing.
By 1929 the nursery was referred to as being in Rancho Floravista which existed on Ethel Avenue between Oxnard and Victory. Besides offerings of many varieties of roses, including climbing roses for about $.47 a piece, the nursery offered fruit trees, grape vines, The New Young Berry, Gladiolus mixtures, and lawn weeders. Lawns were already the essential part of a well tamed suburbia.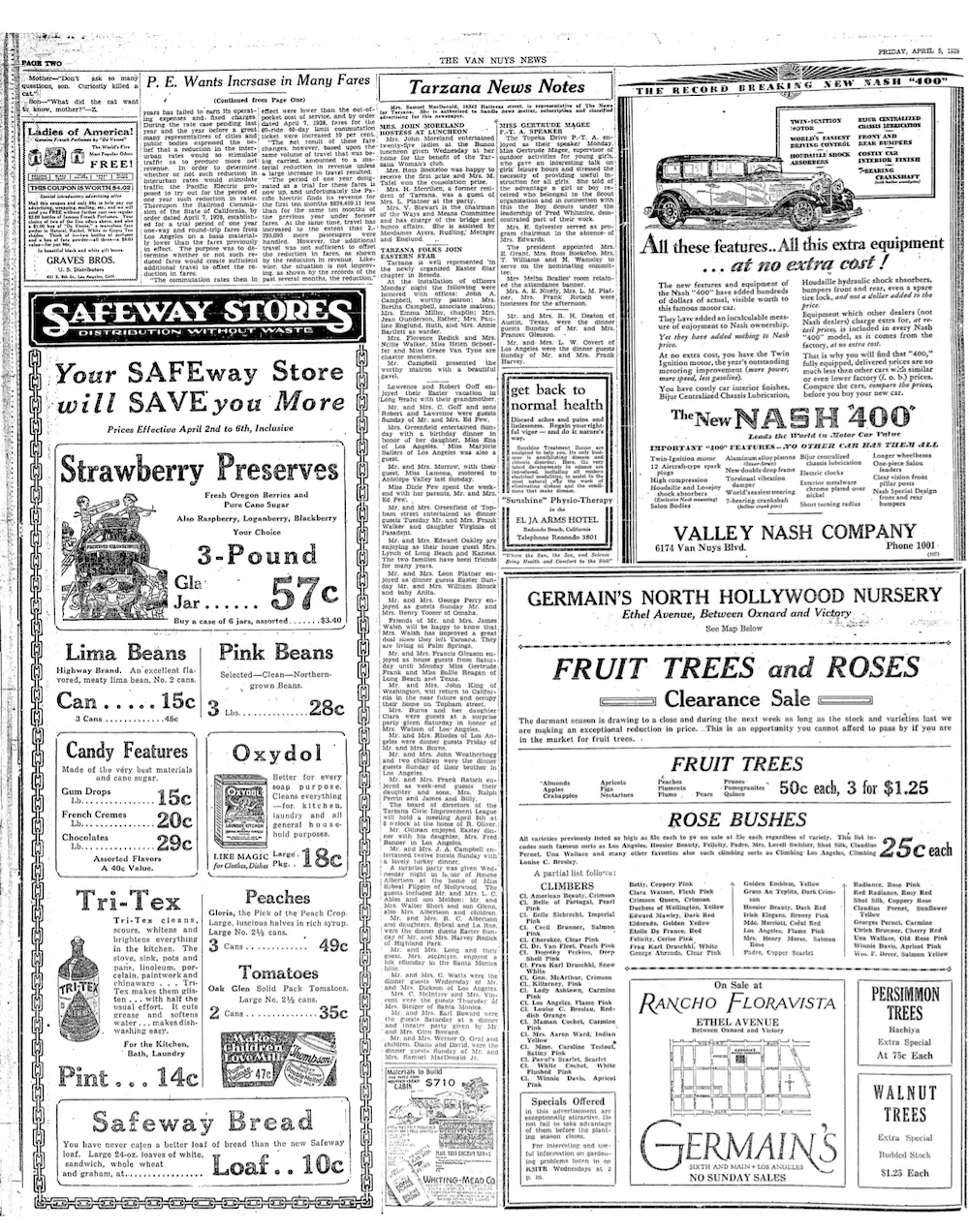 March 9, 1933, in the height of the depression, Germain's appeared at the Van Nuys News' Garden Beautiful Contest. Germain's hosted a flower show at the event that was expected to attract thousands to the Valley. By January 23, 1936 Germain's called 6133 Ethel Avenue their address, and announced they added a landscaping department. This department would render designs, suggest plannings, supervise grading, plant lawns, build garden structures, driveways, and sprinkling systems. The increasing supply of newly built tract homes and estates did not come with sprinklers, graded yards, or gardens. Just how many San Fernando Valley landscapes Germain's created is unknown, but likely to be sizeable.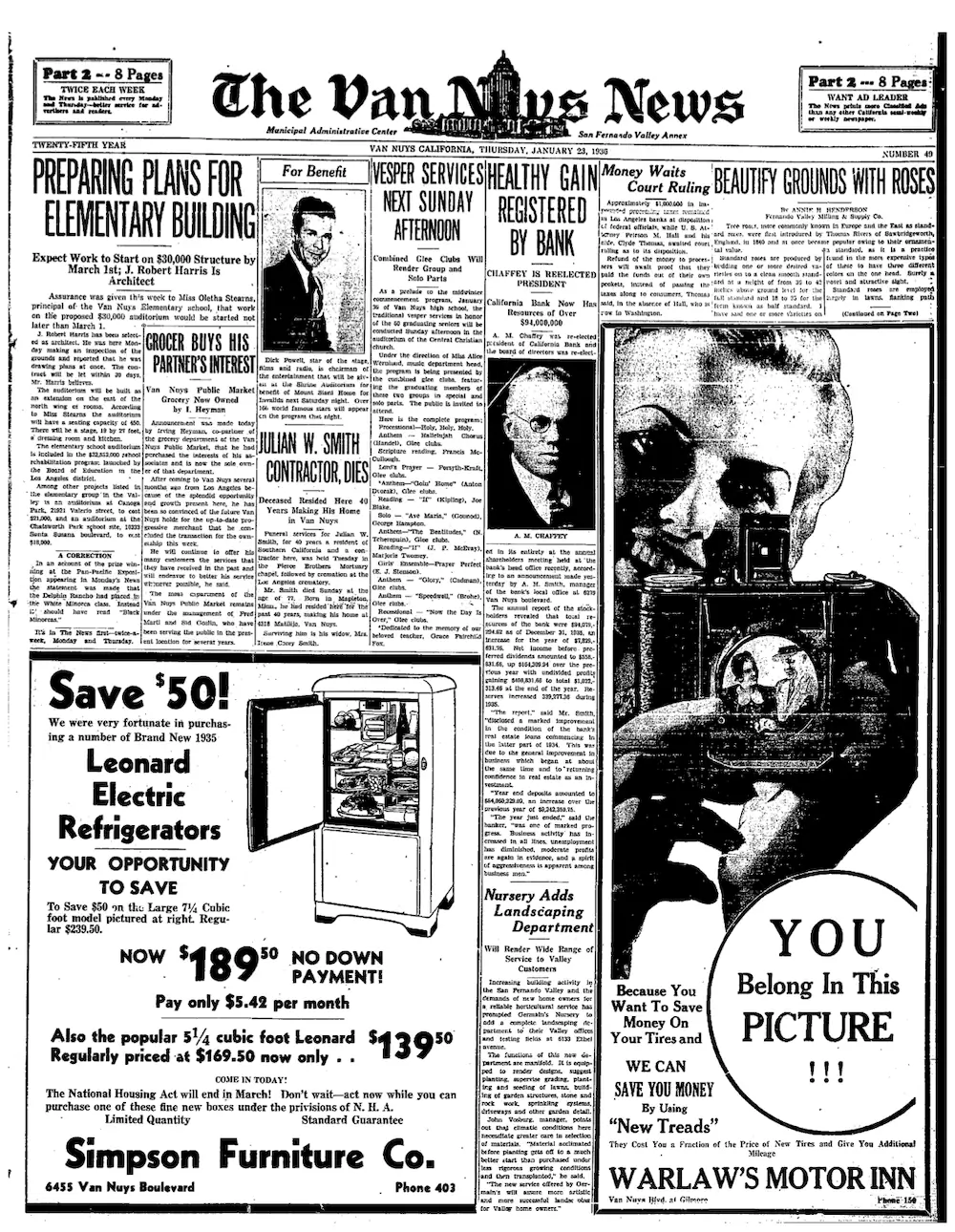 By September 23, 1937 Germain's Van Nuys location was open on Sundays. Previously both their Van Nuys nursery and downtown location were closed on Sundays.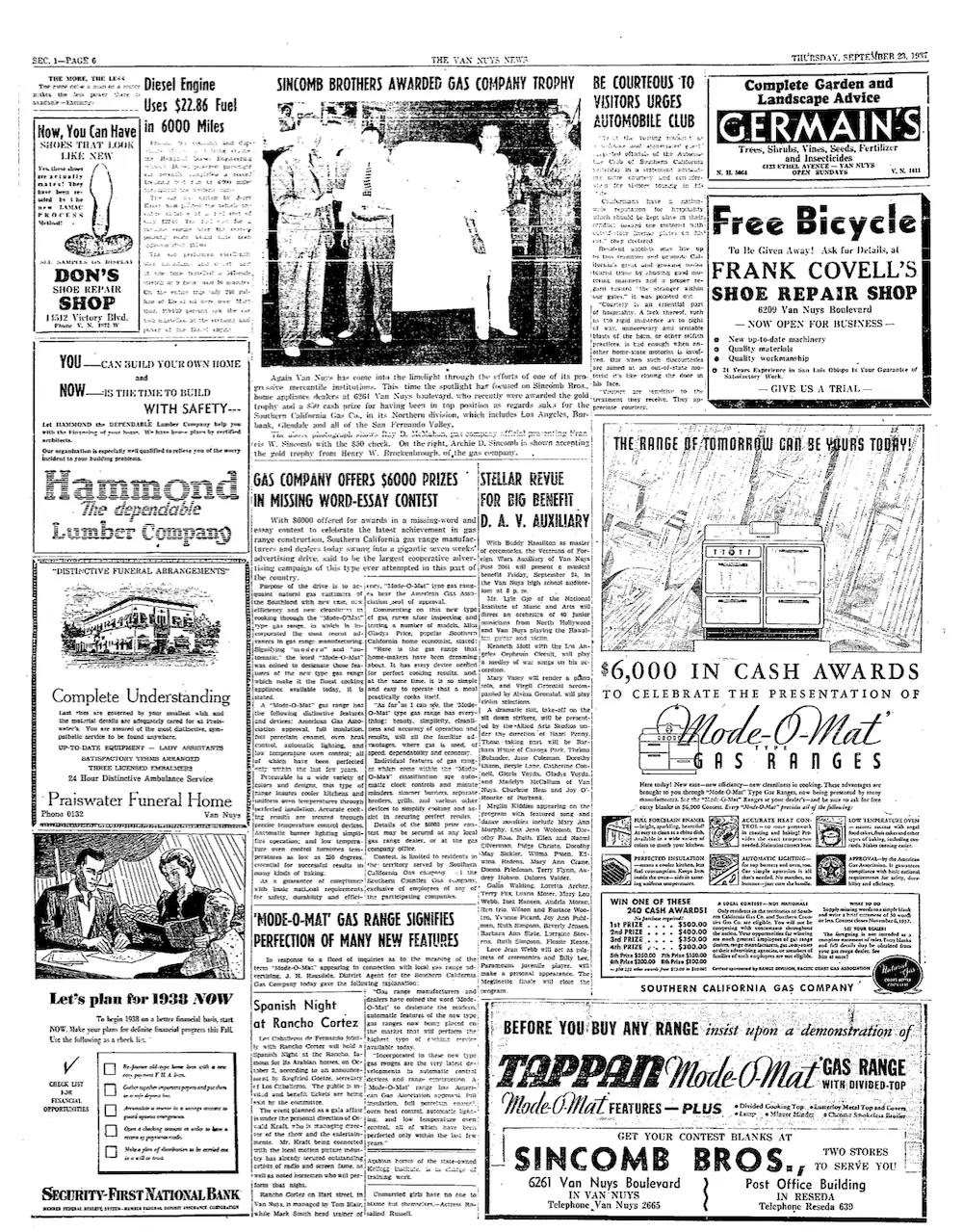 Pictures in Germain's annual catalogs, before they went bi-annual, show growing fields. In one photograph of a worker tending alfalfa, mountains can be seen looking North. It is unclear how much of Germain's live plant and seed harvesting was done at the Van Nuys location. Other pictures show vehicles parked on dusty, hard soil alongside covered structures that resemble gigantic fruit stands on both sides of the picture.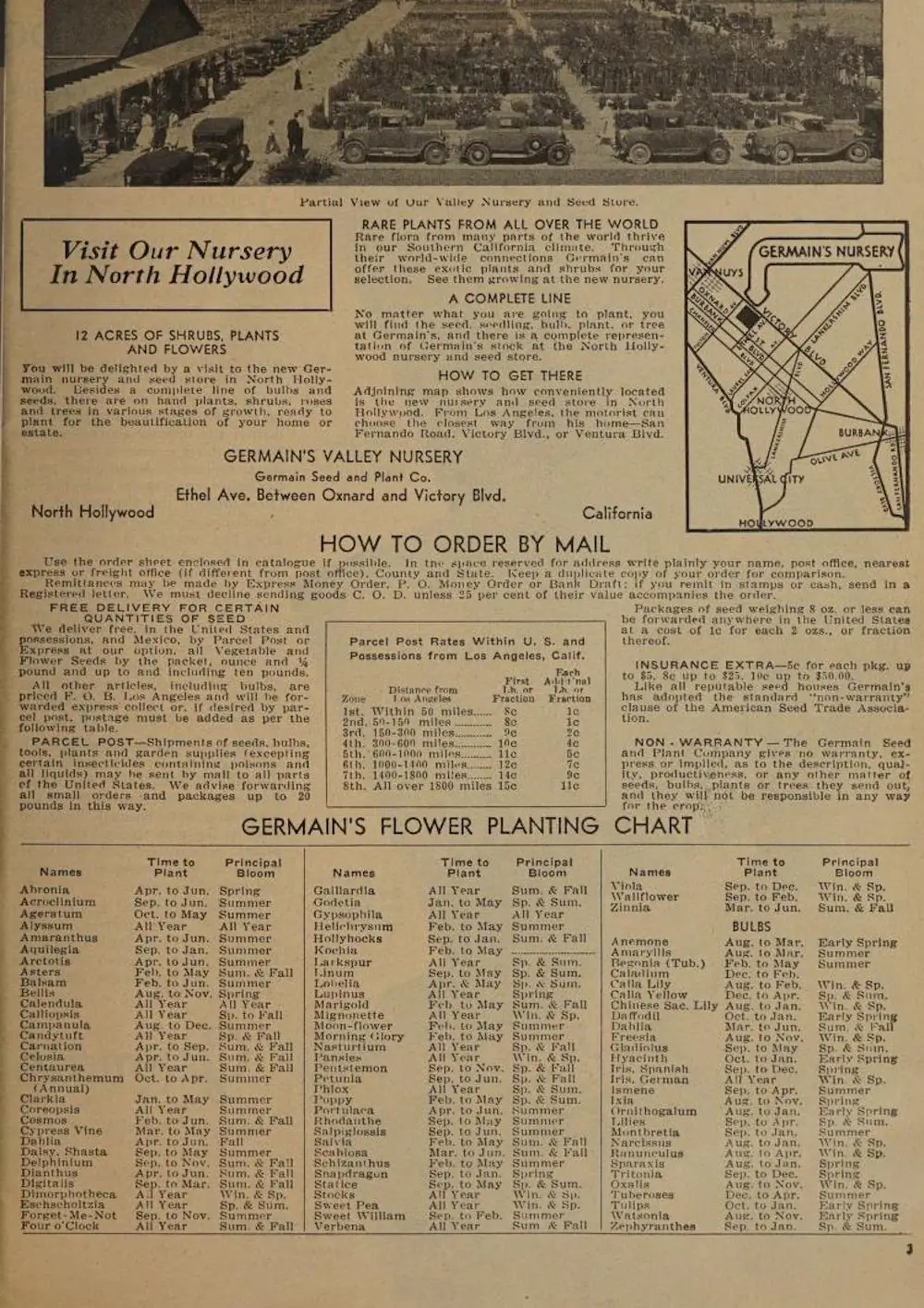 Most likely, starting in 1942, Germain's offered three different exquisite colorful postcards. Sources claim these postcards were sold not only at Germain's, but as souvenirs in the San Fernando Valley through 1952. The biggest mystery is whether these postcards depicted anything actually at Germain's. A former employee who left to form Green Thumb Nursery in Canoga Park lends the most credence to one thing depicted in the postcards, formal dress when visiting the nursery.
The postcards, and Dale Bergquist's account, together create the concept visiting the Germain's Van Nuys location did not involve driving over an unpaved road while wearing overalls. Men wore suits and polished shoes to the nursery. Women wore skirts, dresses, and jackets. Men and women covered their heads. Accordingly, once Germain's was open on Sundays a stroll through the nursery was unquestionably an after church activity. Given the contents of the postcards, a visit to Germain's after church was axiomatic for those who wanted to acquaint themselves with the virtues of Heaven.
The hand drawn postcards are what initially drew the author to research what exactly existed at Germain's Nursey on Ethel Avenue in Van Nuys. These postcards came from the same era of postcards from the motels along Route 101 in Sherman Oaks that depicted an idyllic country scene with various plants and flowers poking through as if they were alive. However, Germain's postcards are richer in color, and depict something magnificent, beyond any ordinary nursery. Are the well-dressed couples at an arboretum, or are they in heaven?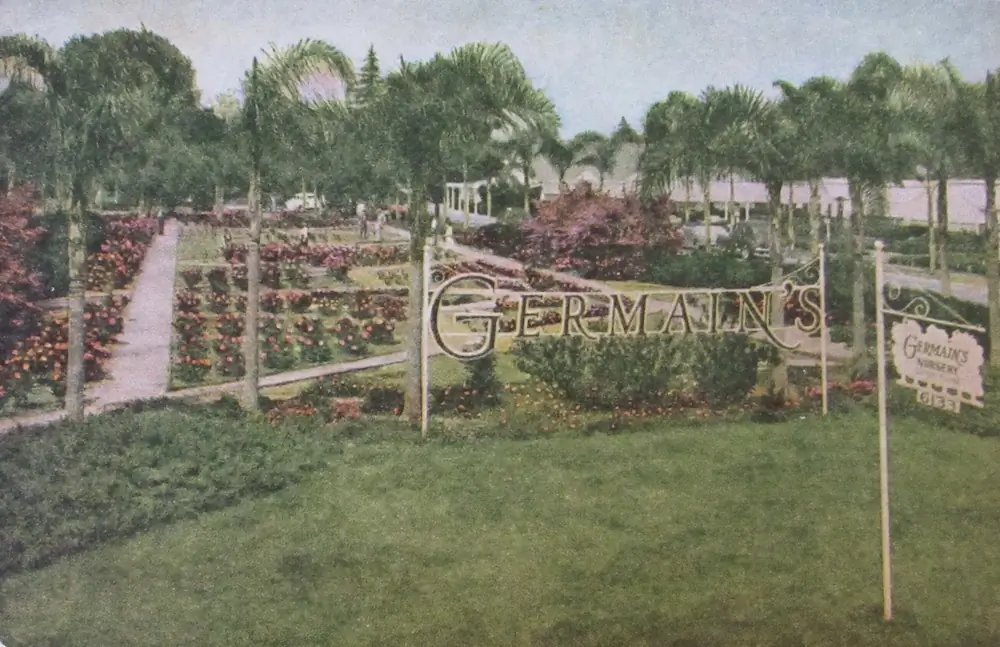 One postcard shows a large arcade style area through which finely dressed couples stroll.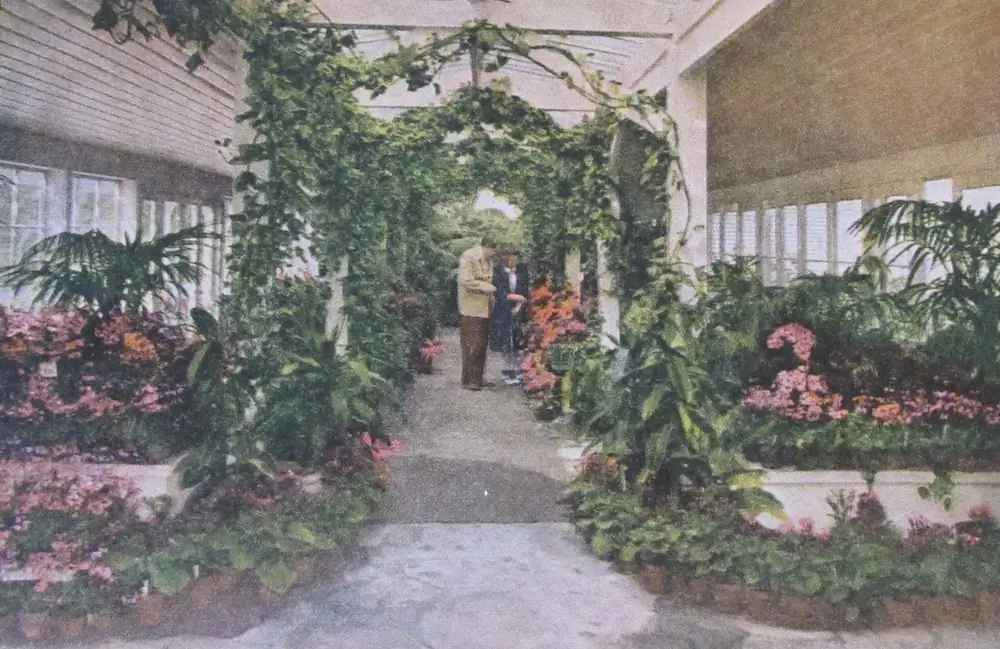 The concrete surface of the plaza contains plots of camellias surrounding trees rising 30 or more feet. There are plentiful, wide archways amongst a concrete, or at least smooth stucco, building. To the left there is a multi-story modern building rising at least three stories. The late moderne style building has windows looking onto the courtyard. The description on the back of the postcard reads, amongst other things, "The beautiful avenue which comprises Camellia lane, is lined with very old Olive trees brought from one of California's oldest orchards. The two large lath hoses bordering the lane are filled with some of the largest Camellia specimens in the country." There is no record of the lath houses on the property rising three stories, or resembling a modern office structure. There is no record of a massive public plaza between structures at Germain's. Nor is there is a record of Germain's having a public plaza on the scale indicated in the postcard let alone any paved spectator areas. The Meyberg's home was on Copa de Oro Road in Bel Air. A Stern stated, "They planted the front yard with 5,000 tulips." The yard was even remarked upon by Hollywood columnist Hedda Hopper, who in a 1950 column described it as a, "Carpet of tulips and pansies." Clearly a showman with a penchant for perpetuating the Los Angeles myth, it is not difficult to surmise Mayberg's impact on the Los Angeles landscape was sizeable. Just how many palms, jacarandas, and lawns came from Germain's cannot be underestimated.
Between the 1920s and 1950s Meyberg grew the business into a dozen locations in Los Angeles. His famous saying, the manifest destiny of suburbia was, "Show me a house without flowers and with a rundown lawn, and I'll show you someone with no feeling for freedom and his country."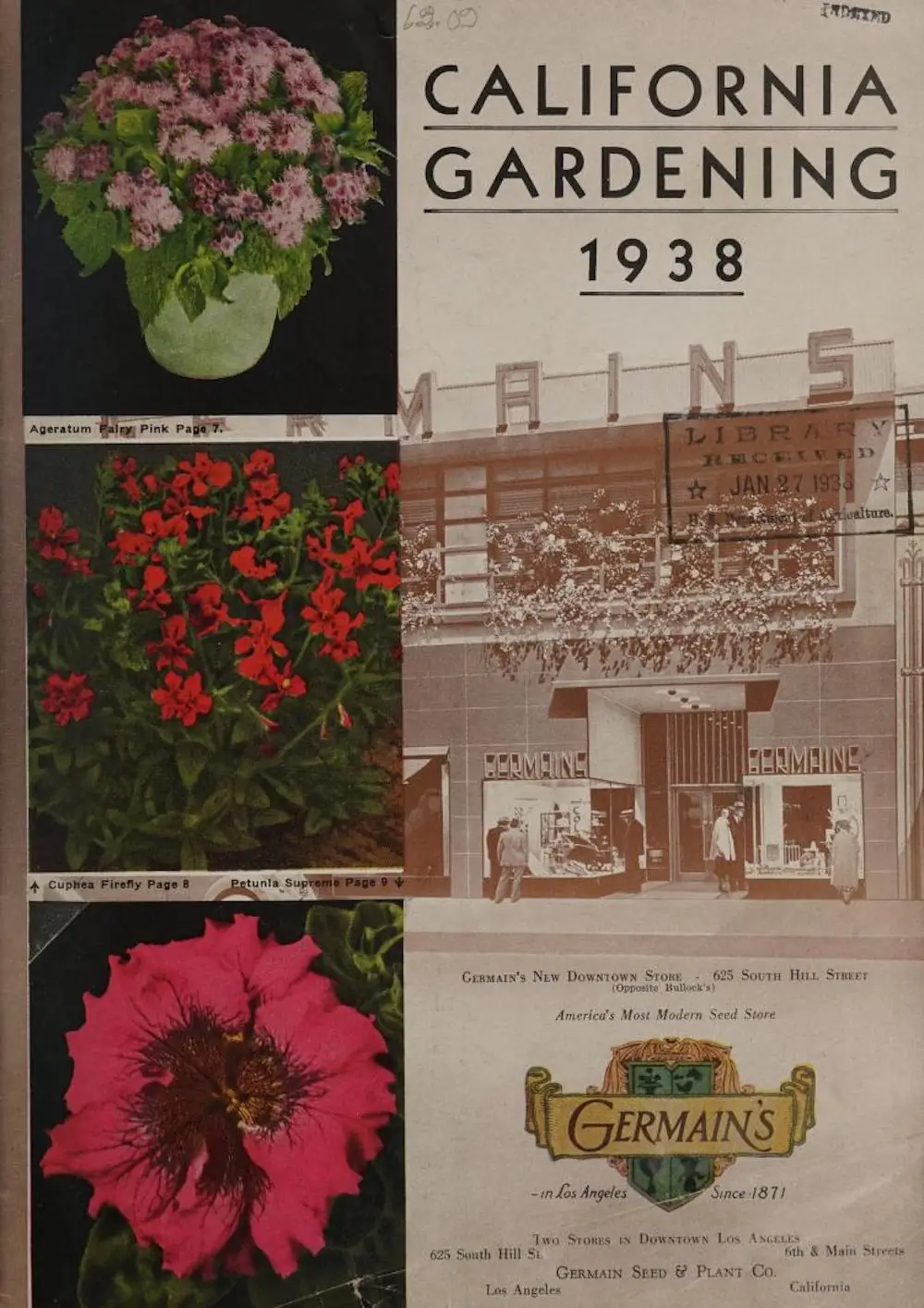 On the front of Germain's 1938 catalog is a picture of their new downtown store located at 625 S. Hill Street across the street from Bullock's. The building has a class-A art deco façade. Large display windows face the street just like the fancy department stores of the era. Inside, there were display cases, and drawers for seeds. Shelves were filled with elegant bird cages. The second floor allowed pets. Pets were welcome. Besides pet supplies, there were boarding and veterinary consultations.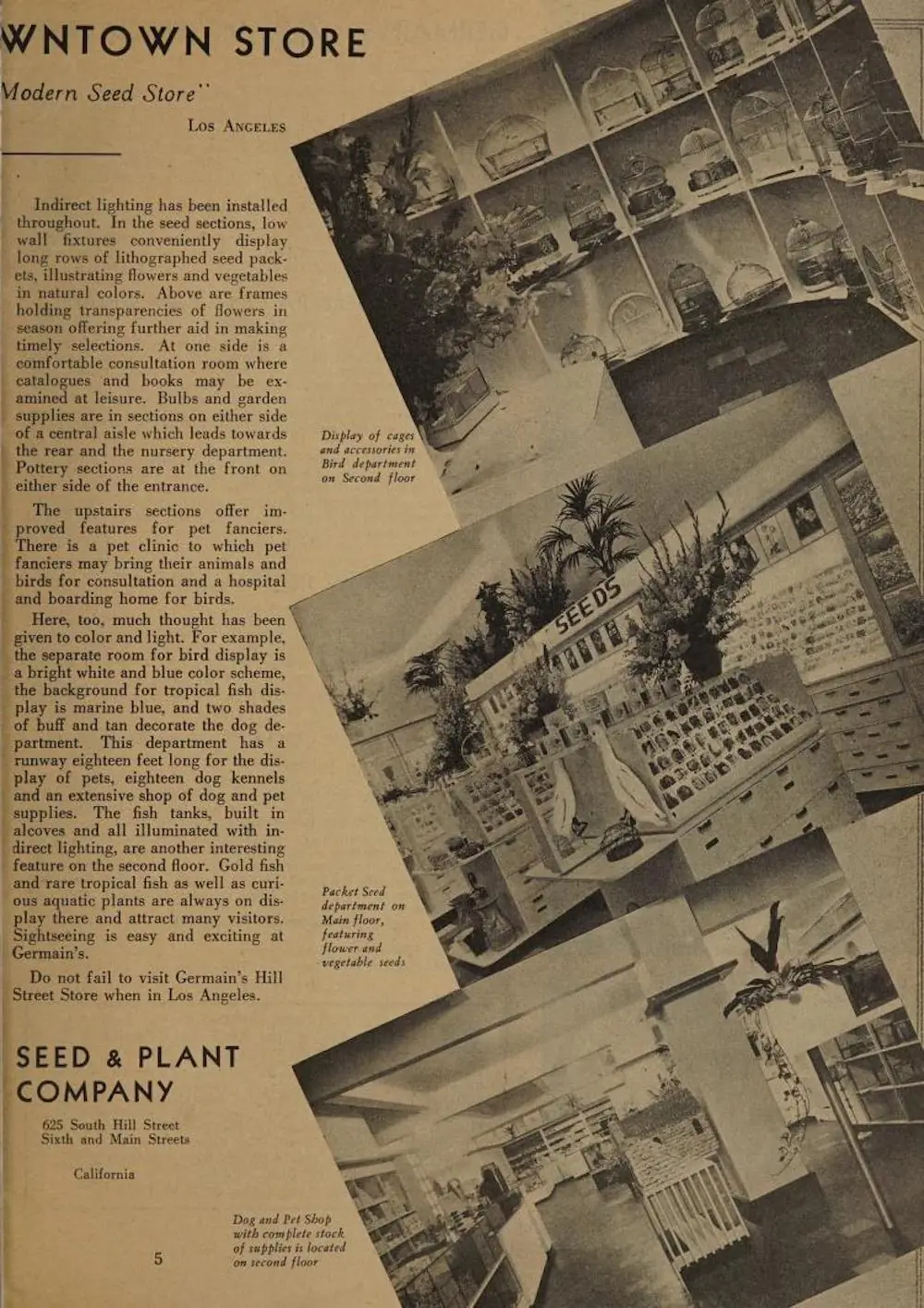 The catalog referred to the Valley location as North Hollywood. The 1945-1946 telephone directories for the Ethel Avenue location listed chiefly Van Nuys exchanges: State [78] 5-2490 and Stanley [78] 7-1906. Records indicate Germain's remodeled 625 S. Hill in 1937, was still there in 1947, but left by 1952. By 1952 Germain's Los Angeles address was listed as 747 Terminal Street. Since 1941 they were in this warehouse building, built prior to 1909 when the city began keeping building records.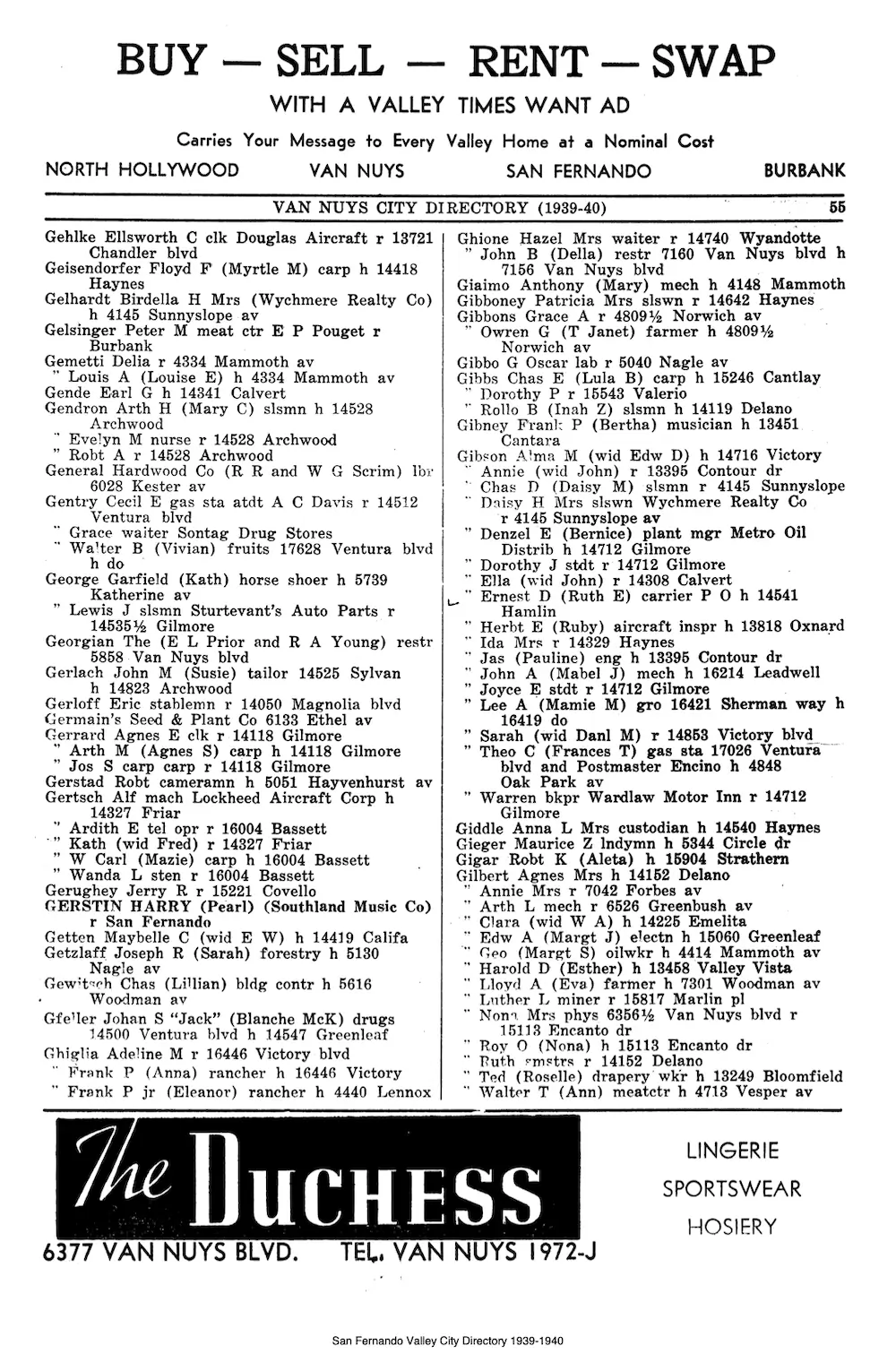 Building permit records show, in 1942 the 6133 Ethel Avenue address was on a 631 by 753 foot lot which is 10.91 acres, roughly the size of Valley Glen Park. The property contained one store and two greenhouses. A permit for a new nursery building of 53 by 152 was issued. One postcard reads, "Adjacent to the retail store is "The Patio." One of the brightest spots in the Nursery. Here, an ever changing picture of flowing flowers and foliage plants is seen from season to season. Just the place to browse and get acquainted with new and rare varieties for your home or garden."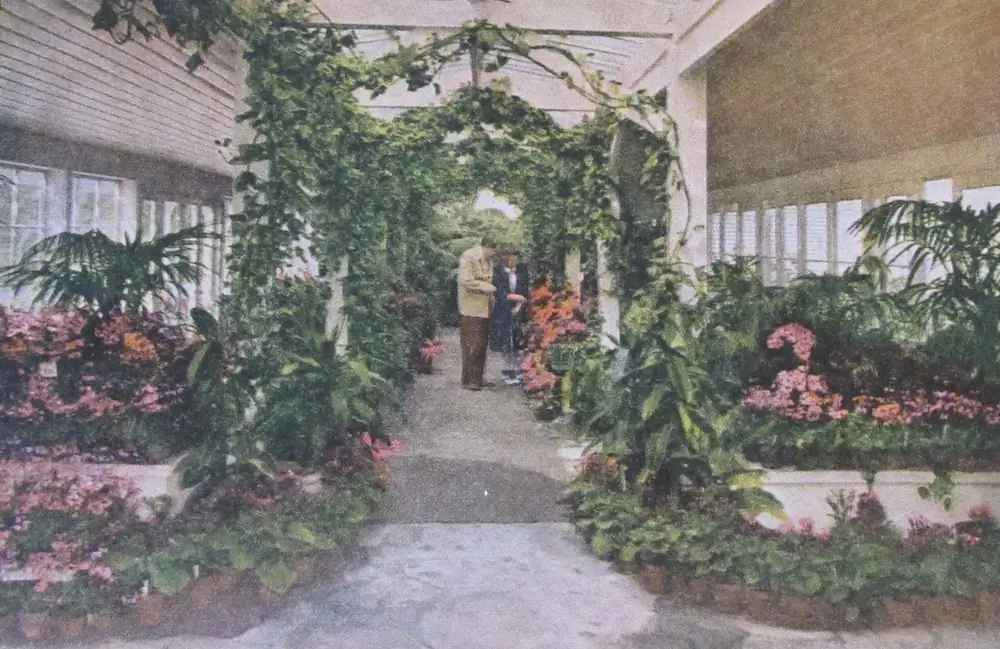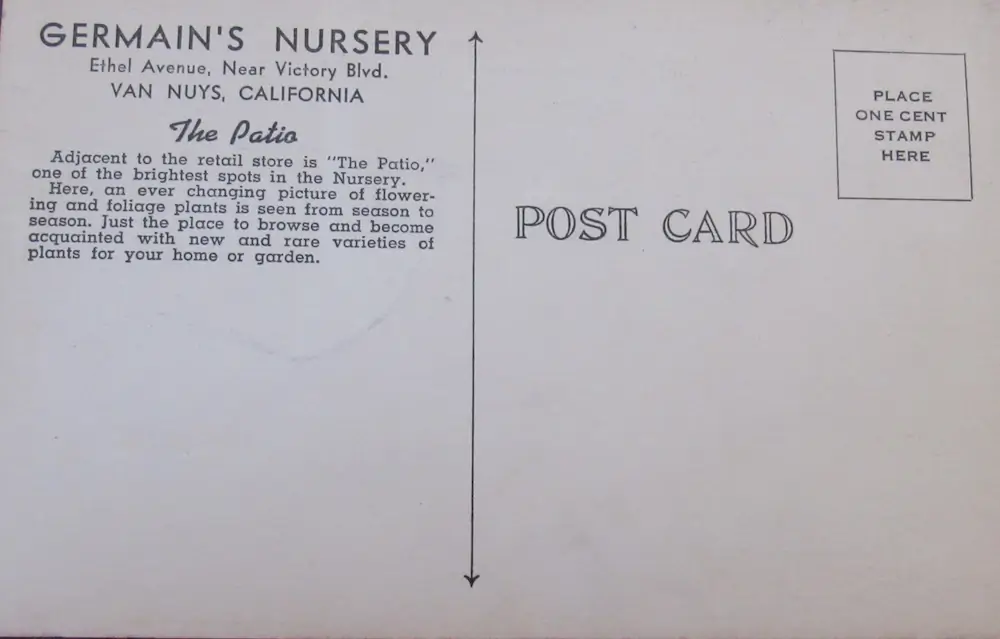 The patio appeared enclosed by framed glass windows. Wood siding went from above the window frames to the ceiling. Vines traveled up beefy structural posts and beams running from side to side underneath an arched, clear roof. Photographs of, "The Patio" cannot be located. Nor can building permits for large structure posts and beams running in many directions.
Another postcard features a blissful entrance leading into enchantment. The sign post in front reads "6311," the non-existent Ethel Avenue address to the empyrean afterlife of the San Fernando Valley. Dangling underneath two metal posts that connote a gateway, there are letters spelling "GERMAIN'S."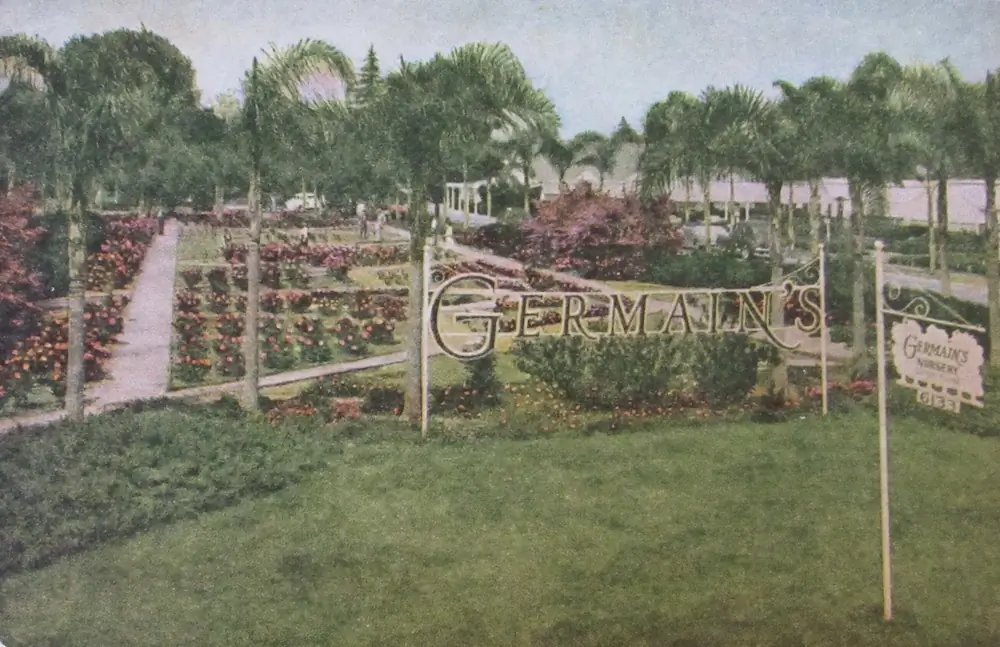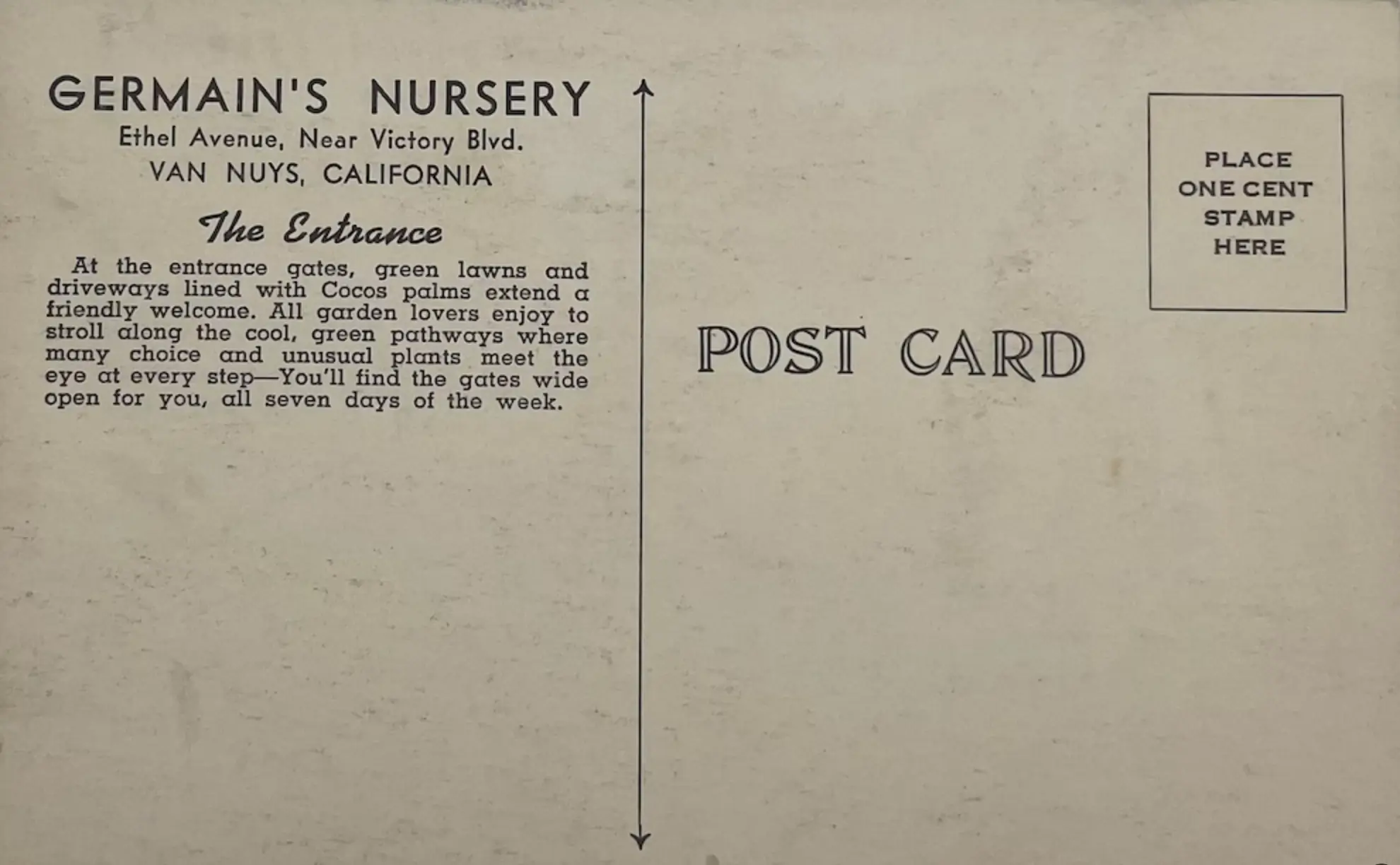 Concrete walkways divide rows of flowers. The gardens resemble public botanical gardens fronted by perfect manicured lawns, Coco palm trees to the side, and a fence. The fence most likely separates Germain's from homes and lots for sale on Ethel Avenue, clearly by 6047 Ethel going South where haphazard larger lots began being dotted with small homes from 1936 onward, and all at once in 1953 going North towards Valley Glen Park. The postcard's inscription invites garden lovers to stroll along the cool, green pathways where many unusual plants meet the eye at every step. A photograph resembling the depiction in the postcard cannot be located.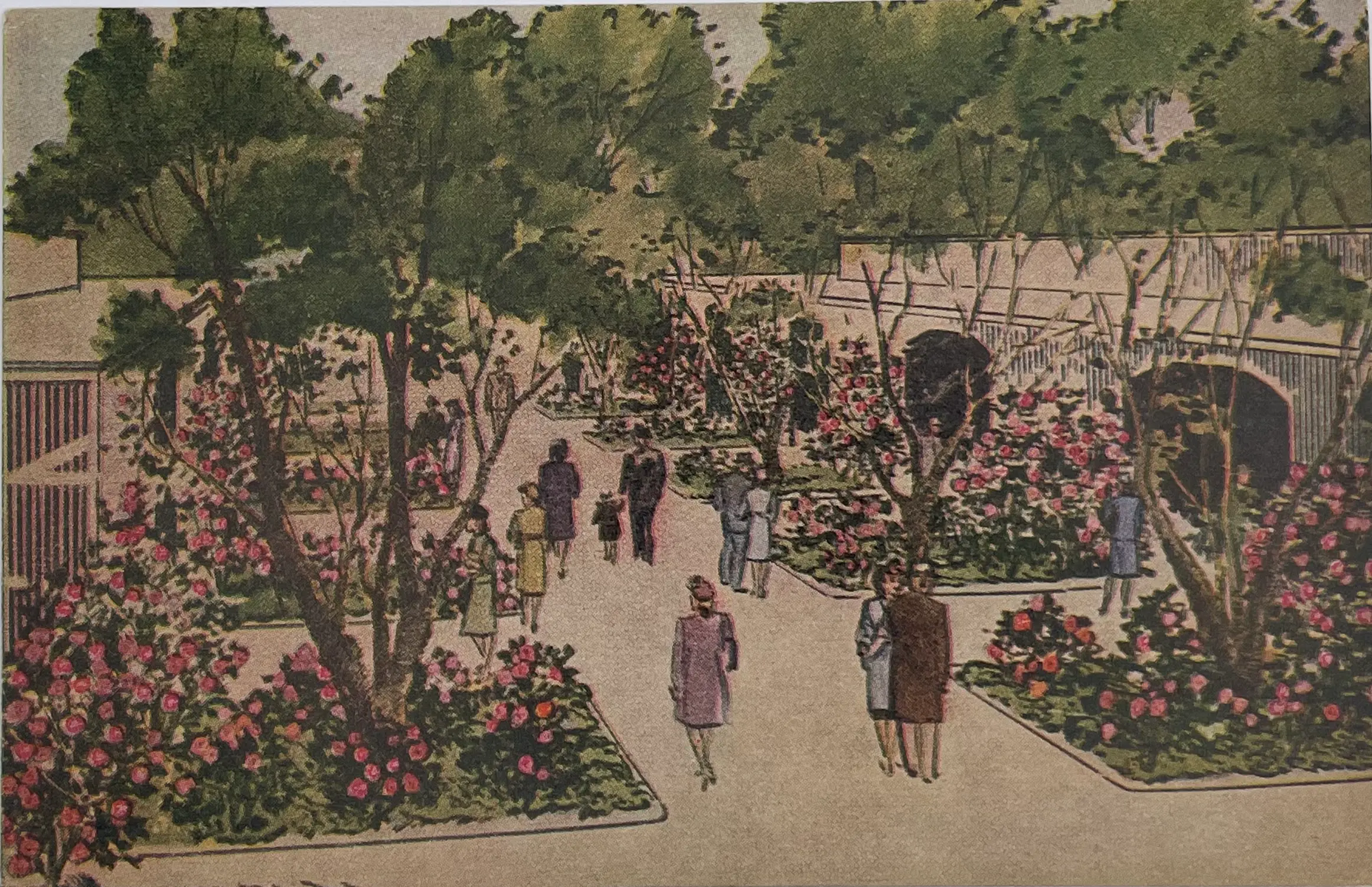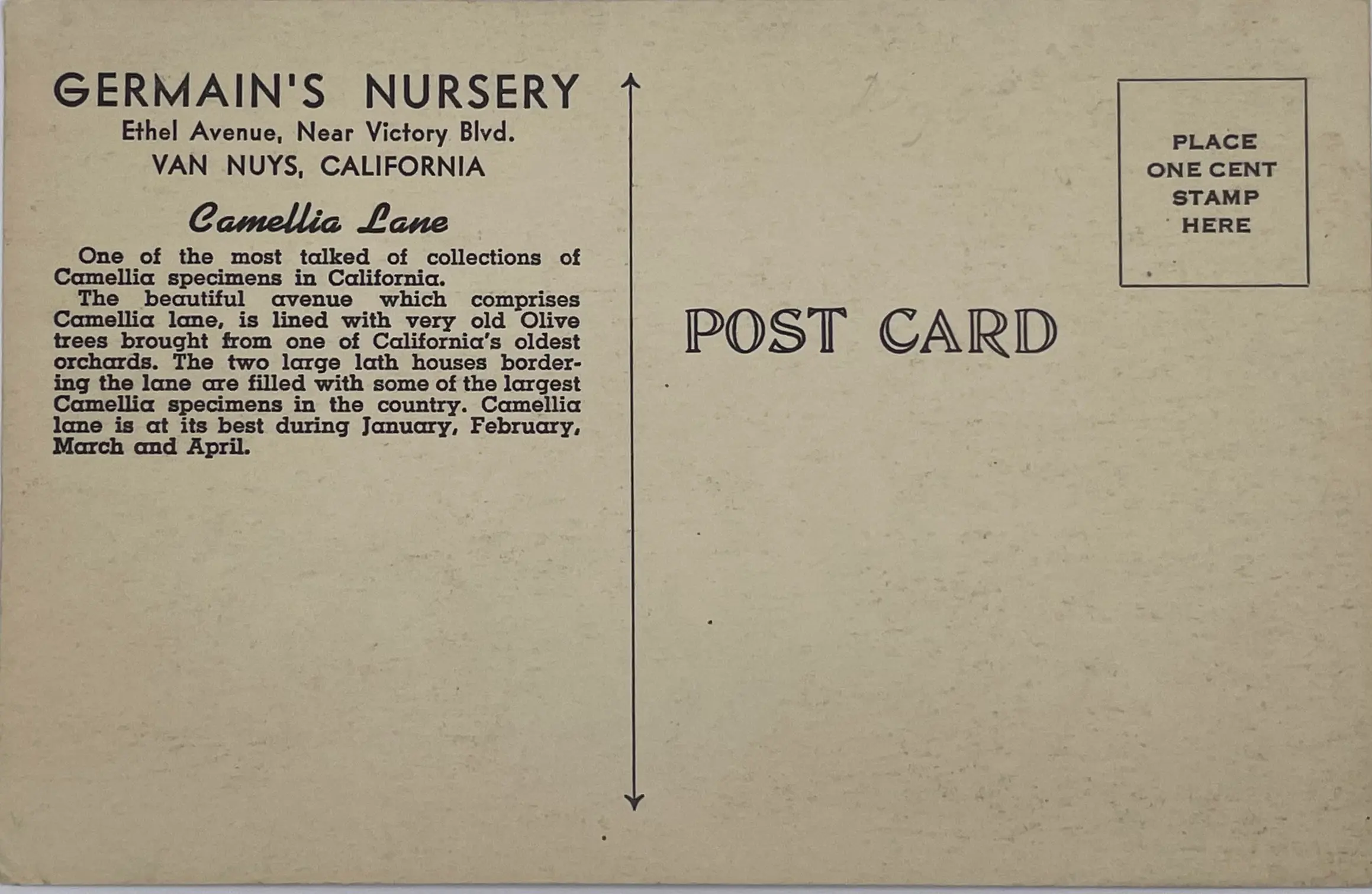 Approximately 250 feet South of Erwin Street, between Atoll and Mary Ellen there is said to have been a winding water feature. Water was pumped in from Atoll and went South down Mary Ellen (which did not exist in this section until 1959 after the nursery closed). At the Los Angeles arboretum, Mayberg designed a 20-foot drop water feature which caused one source to believe the water feature at Germain's was other than folklore. A photograph of the water feature cannot be located. Surely, Mayberg would not have missed the opportunity to advertise the feature in his newspaper advertisements, or the Germain's catalogs. Meyberg was a trustee of the Los Angeles Arboretum. In 1952 Meyberg's continued lobbying of the Bird of Paradise caused it to become the official plant of the City of Los Angeles (some sources claim the actual lobbying was done by his family members). Mayberg was also chairman of the International Flower Show as late as 1954. Green Thumb Nursery's website claims Dale Bergquist started working for Germain's Seed Company in 1945.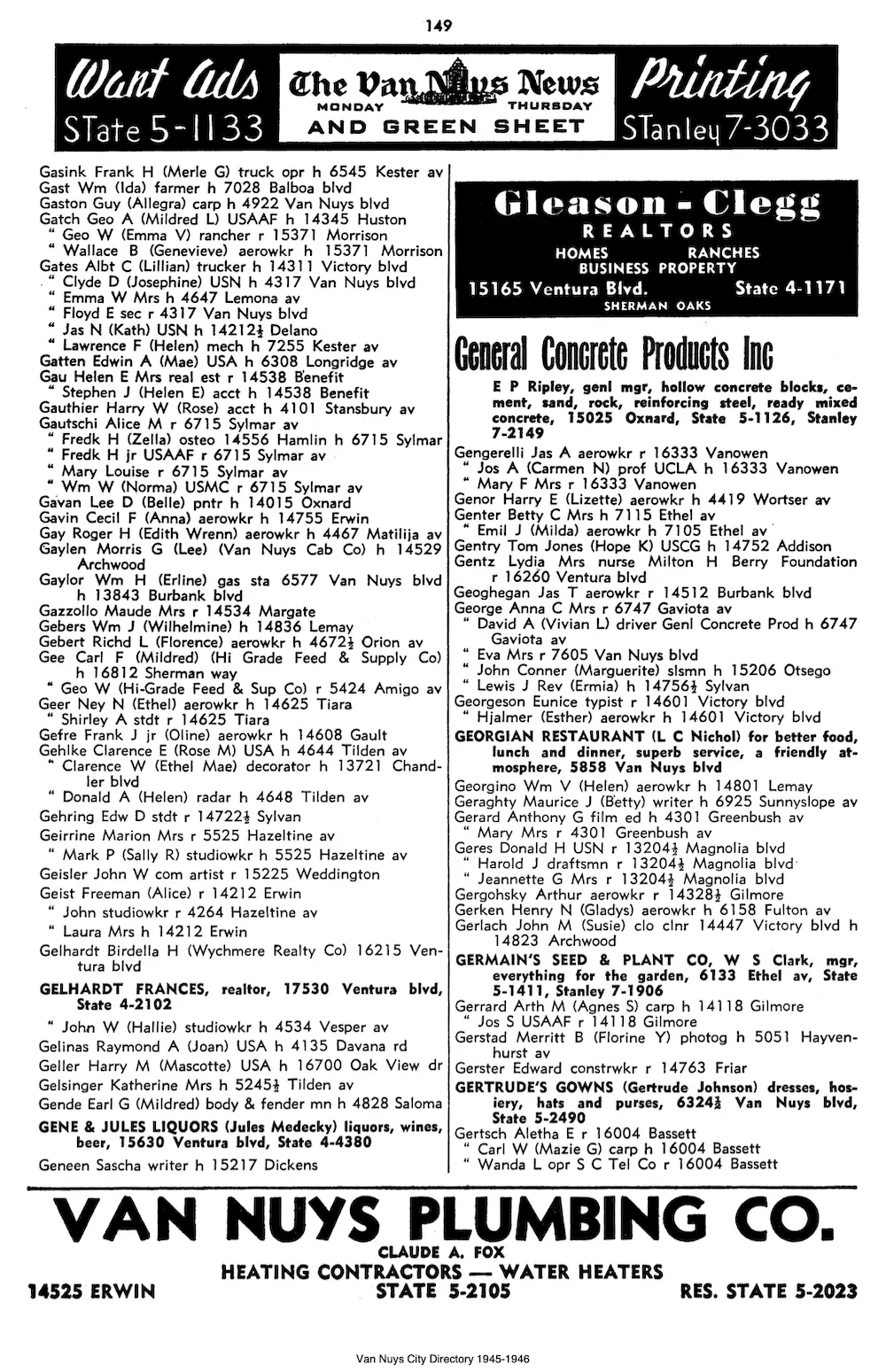 He earned $35 a week which he thought was a good salary. Nonetheless, he sought a business opportunity of his own. In 1946 he asked one of the suppliers if he knew of an existing plant nursery for sale. There was one for sale in Canoga Park. Dale convinced Errol Newton, also a Germain's employee, to go into business with him and purchase the Canoga Park nursery. Once they had their own nursery, Dale and Errol drove through the San Fernando Valley during the early morning hours collecting a mailing list of the new homes being built. Dale's brothers, Max and Bob came from Nebraska and started Green Arrow Nursery.
Dale Bergquist stated, in interviews, when he started Green Thumb Nursery, he thought it was time for a smaller 2-3 acre nursery where customers could come casually dressed. Presumably, Germain's was of gargantuan proportions, and there were repercussions if a couple came without a hat and jacket.
Germain's always had competition. Armstrong Nursery was in its present location, just West of Coldwater on Magnolia since at least 1945. The Withmer Nursery was located at 13703 Vanowen. Valley Crest had a location at 7715 Burnett. The Green Nursery was located at 4736 Laurel Canyon. Universal Sherman Oaks nursery was located at 4444 Van Nuys Boulevard. There were many nurseries along Ventura Boulevard in Sherman Oaks over the years. At the location of the high rise (14724 Ventura Boulevard) across from CVS, the Packis Nursery and Sherman Oaks nursery coexisted at the same time. Meyberg died in 1956. Almost immediately, plans were made to close the Van Nuys location. Over the summer of 1957, a deal was reached to move a 1,691 square foot building to 16922 Parthenia Stret in Nothridge where Mayfair Markets operated a nursery. Mayfair operated stores smaller than supermarkets ultimately operating 48 in California. Many of Mayfair's upscale stores became Gelson's.
One source claims Germain's Van Nuys location closed almost immediately after its manager left in 1956. If the source sought to refer to Mayberg, he was not their manager. Nearby lots had been selling since the 1940s, and with vengeance by the early 50s. A tract of homes rose along Ethel in 1953. Another tract rose on a cul-de-sac to the Southwest. At this time, it cannot be said the development had anything to do with the owners of Germain's, but due to certain facts relating to some of the developers, the author does not foreclose that possibility and will continue to research it. In the area, Valley College had been open since 1952 with largescale construction starting earlier. The next wave of development in the area would be apartments along Oxnard and Fulton. Whether the location had outlived itself is not entirely clear because the land was not yet as valuable as it was 30 years later.
Germain's was bought out by an English company in 1990. VALLEY GLEN PARK IS THE FORMER SITE OF GERMAIN'S NURSERY IN VAN NUYS In 1960 The Germain and Meyberg family created a 99-year trust for the swath of land that goes by 6150 Atoll and 13100 Erwin. The land was rezoned from commercial to open space. In 1961 a park opened with a baseball backstop, and 2 benches (there might have been 3 but one was moved due to complaints from the neighbor). The park was mainly used by the children of residents. Many unofficial Grant High School baseball games occurred at the park through some point in the 1980s. By the 1990s the park fell into disrepair, and there was a gang presence. Many efforts, and considerable funding, went into the park beginning in approximately 2003. At present, the Valley Glen Park and approach up Atoll from Oxnard Street is breathtaking.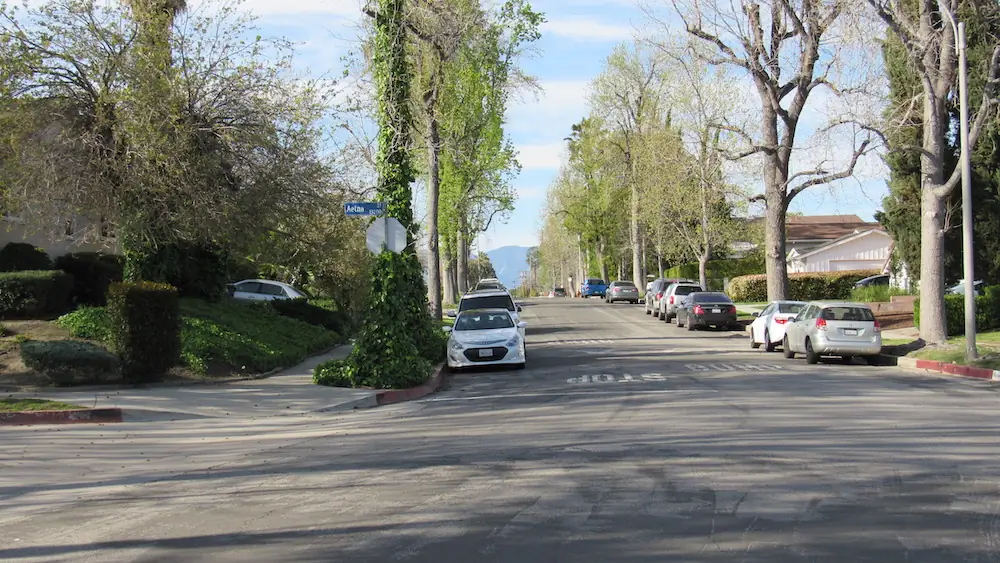 The otherwise flat, Valley terrain along Oxnard begins rising along Atoll in a manner uncharacteristic of streets North of Ventura Boulevard. The park is a large open space at Erwin Steet to the North, Atoll to the West and Ethel to the East. The terrain suggests something magnificent was once in the location. However, photographs and even the whimsical postcards of Germain's depict flat grounds. A gravel and sand walking path meanders through the grassy terrain ultimately descending into the gulch that is alleged to have once been the Mayberg water feature of Germain's Nursery.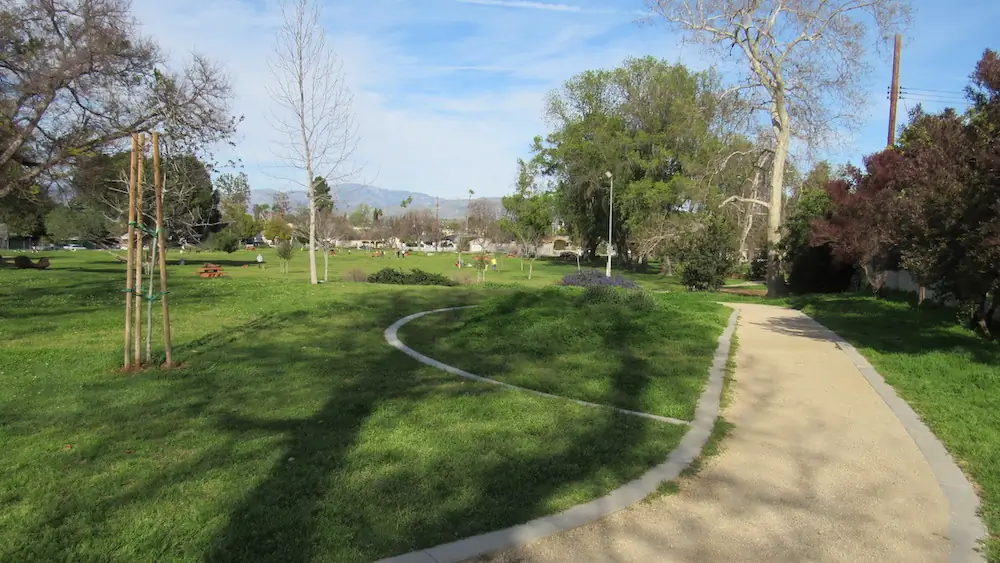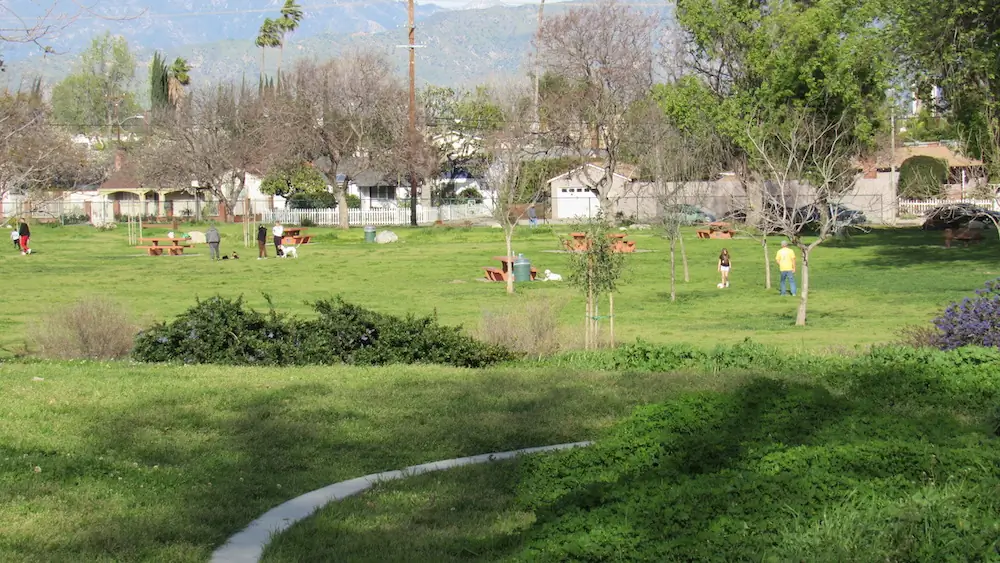 On a Sunday, the park has a vibrant presence of locals who have no idea they are walking through the former Camellia gardens, rose paths of Flora Vista, sitting on benches where greenhouses stood, or playing soccer where alfalfa once sprouted. But it is possible present day fables are being made in back of a tree, spot of grass, or the field.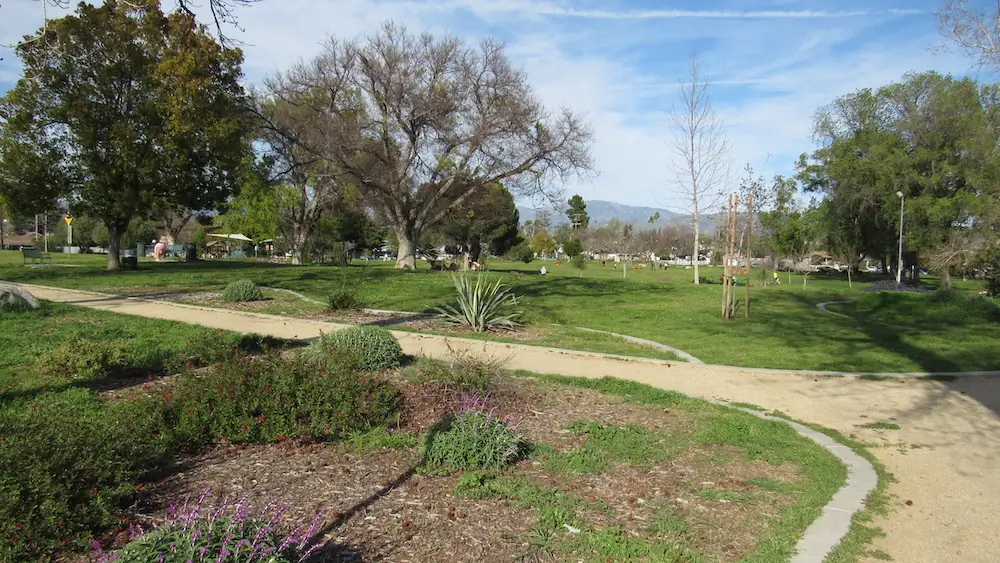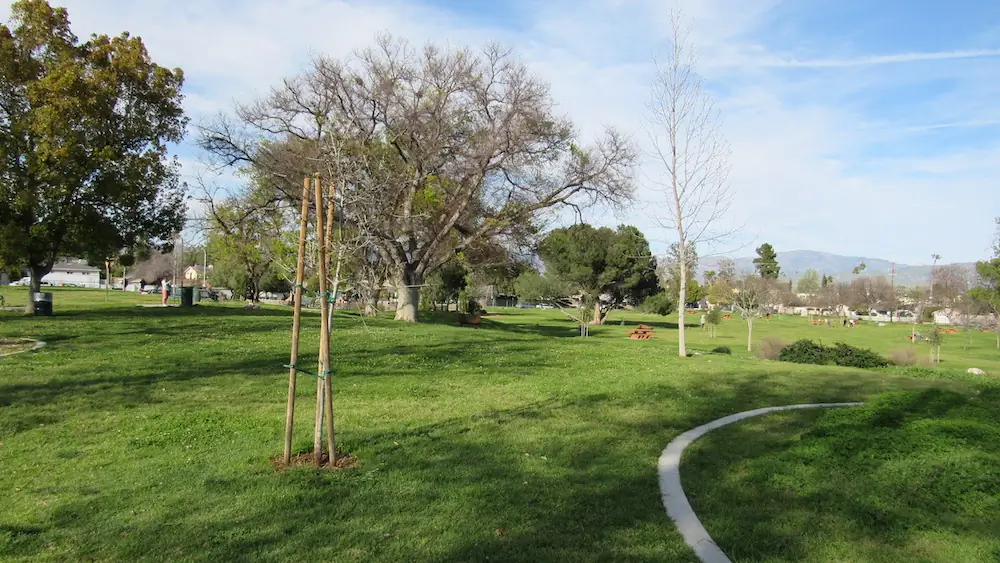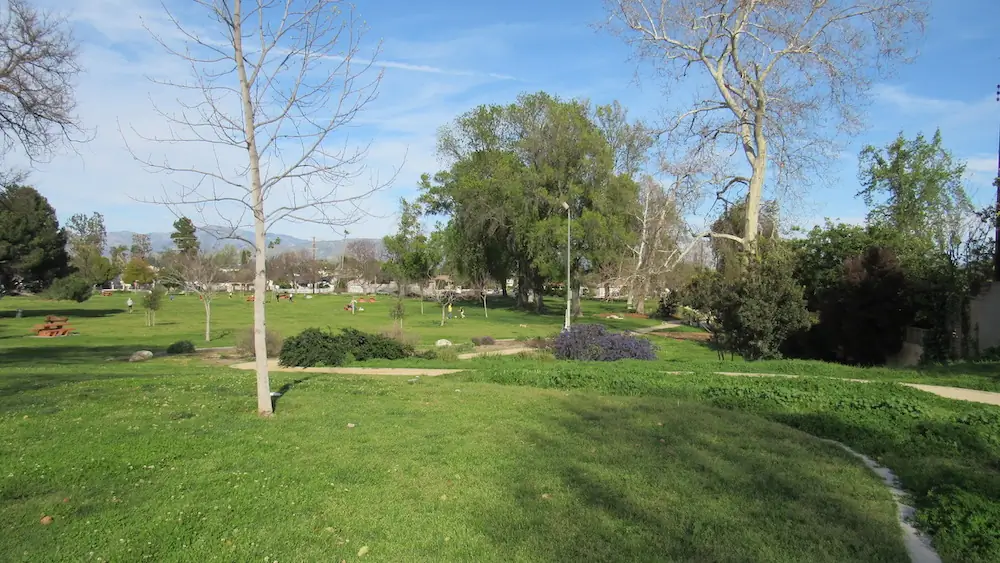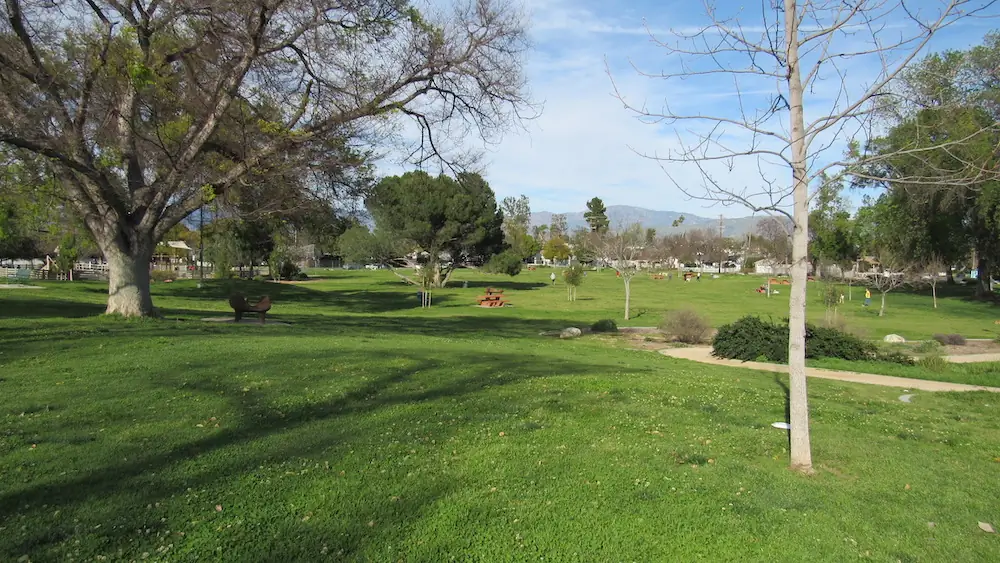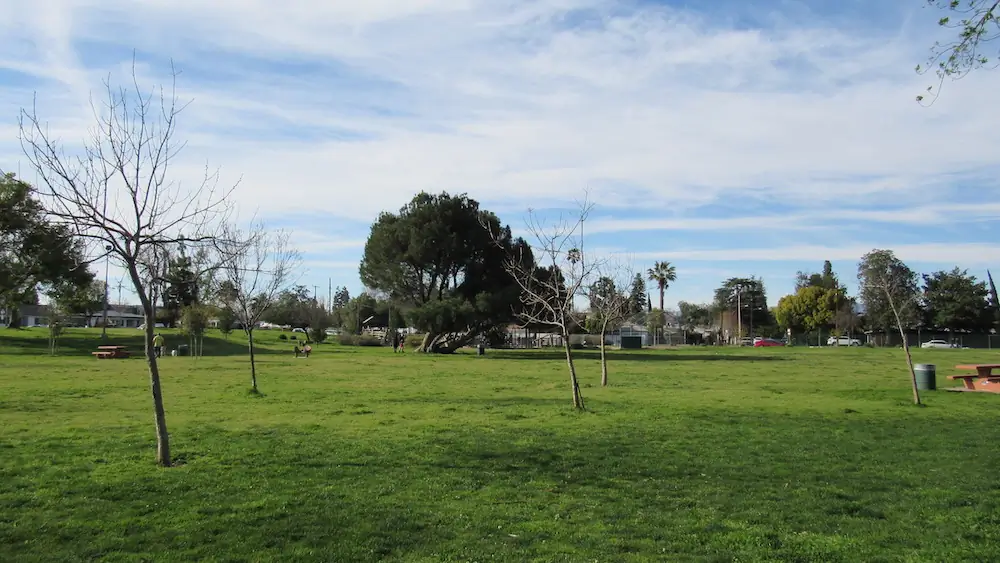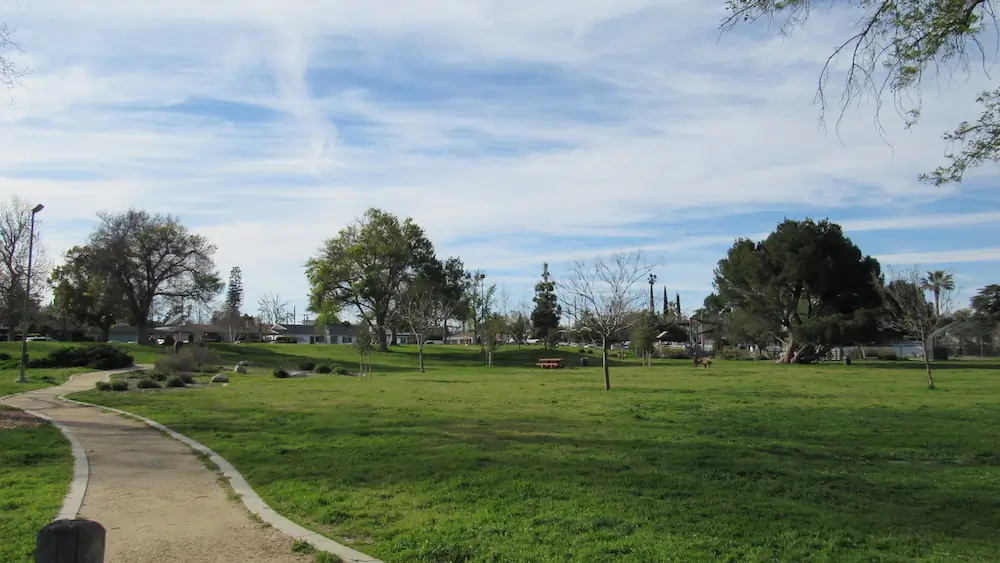 A walk through the neighborhood fails to unveil any evidence of unusual plantings that existed during the days of Germain's. Given the street grade along Atoll, and the gulch in the park it is unlikely any significant grading was done that would have forever wiped away traces of all the fallen seeds over the years.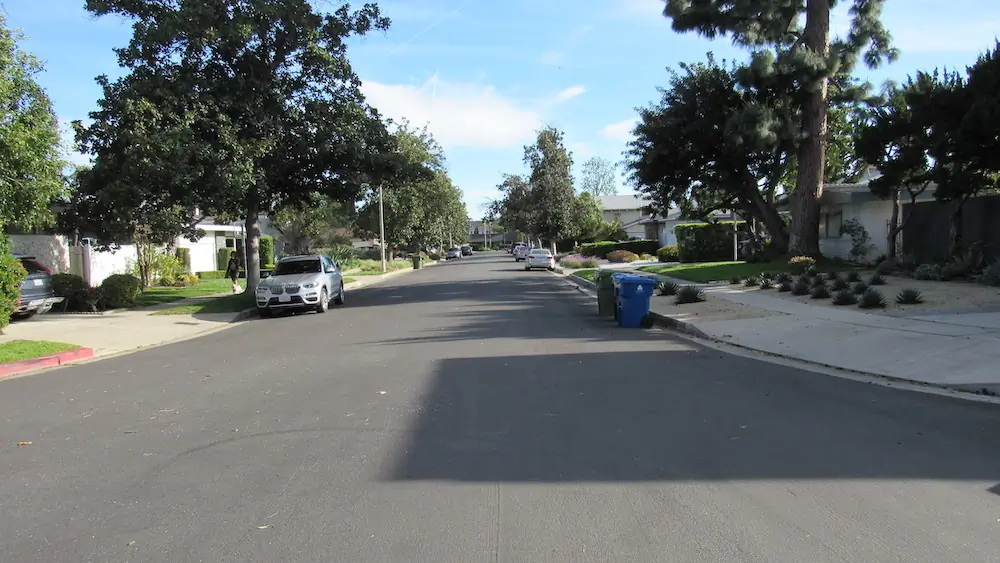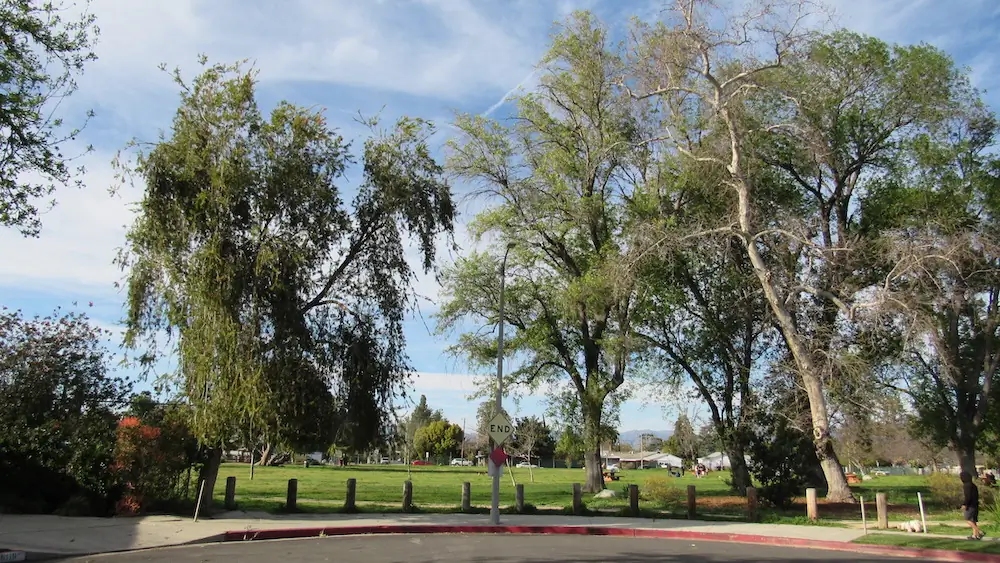 It is for you to decide whether it is best within your mind to regard Germain's as the Los Angeles myth, or just another nursery. Anybody possessing photographs of the area is encouraged to contact the author of this article. Germain's Van Nuys location remains an elusive vintage mystery. Some of the author's prior vintage mysteries are solved, to a degree over the years, with continued research and input from the community. Germain's Van Nuys location is a worthy subject given its incongruent locations, Rancho Flora Vista, the alleged waterfall, postcards depicting the afterlife, the overall importance of the operation to Los Angeles, and Mayberg being Hellman's grandson.

Karl Gerber, Tract 1000
---