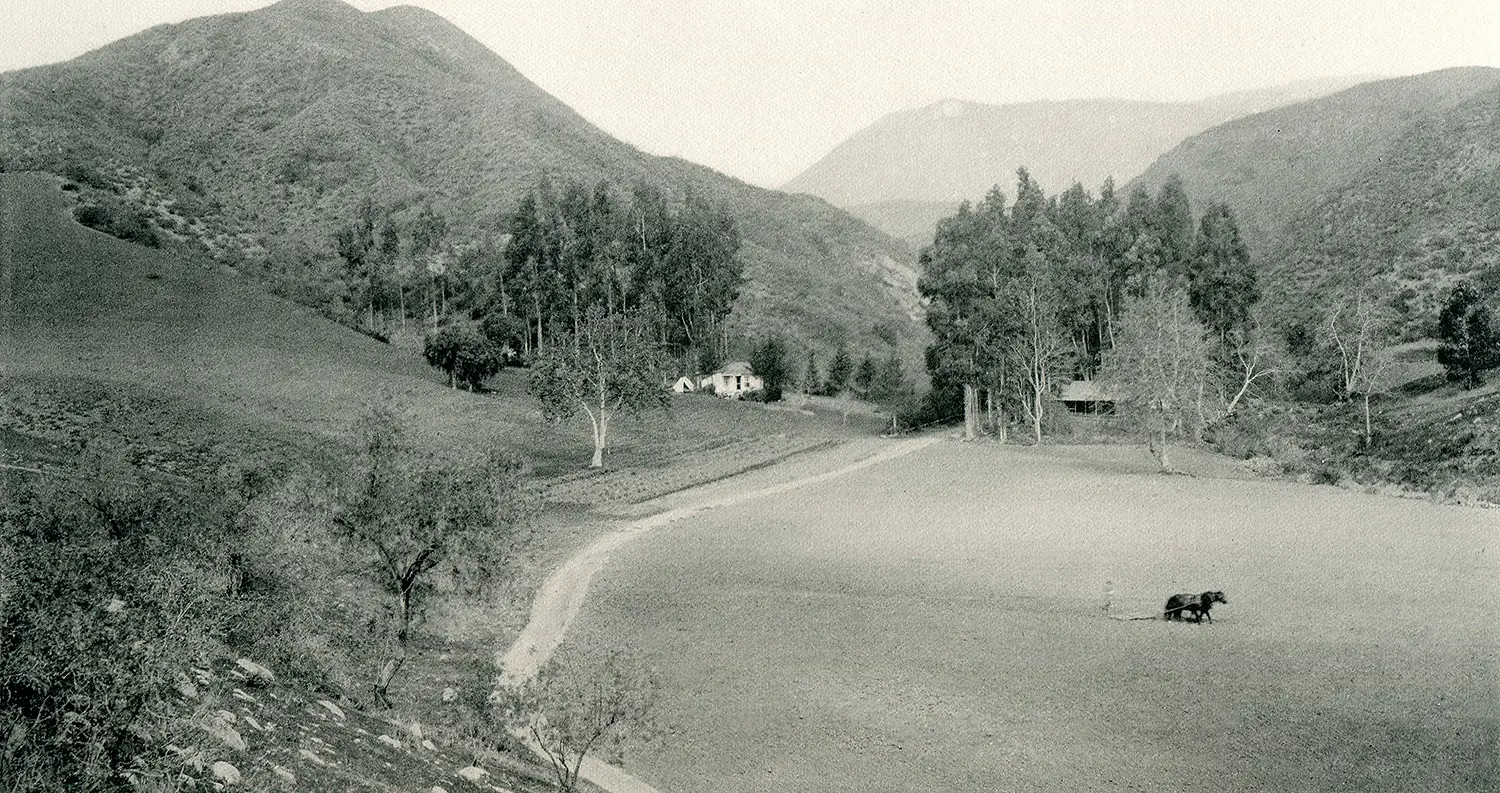 The city name Hollywood came to exist in 1903. Hollywood was fields until 1912-1913 when film production began taking off. Around the time this picture was taken Hollywood had a population of less than 1,000. Today, Hollywood is again as much a place as a dream although its boundaries remain somewhat murky.
My study of Los Angeles history began many years ago when I was in elementary school. When I began collecting sources in the 1980s fewer people were interested in the history of the region. Recently when moving my collection due to repainting and re-carpeting I realized I had quite a few 1 of 1s, and materials about Los Angeles County which should go to California history section of the Bancroft library. With the exception of one image, you will not find the images on this page anywhere else.
The significant images on this page are from Part VI and VII of a large faux leather book entitled, "Southern California." There is tissue paper in front of these pictures. The spine on one of these volumes has hardly been opened. I vaguely recall the antiquarian book dealer, who sold me these texts, telling me they had never seen any of the other volumes. In my thirty years of serious study and collection I have not.
Hollywood was fields until 1912-1913
when film production began taking off.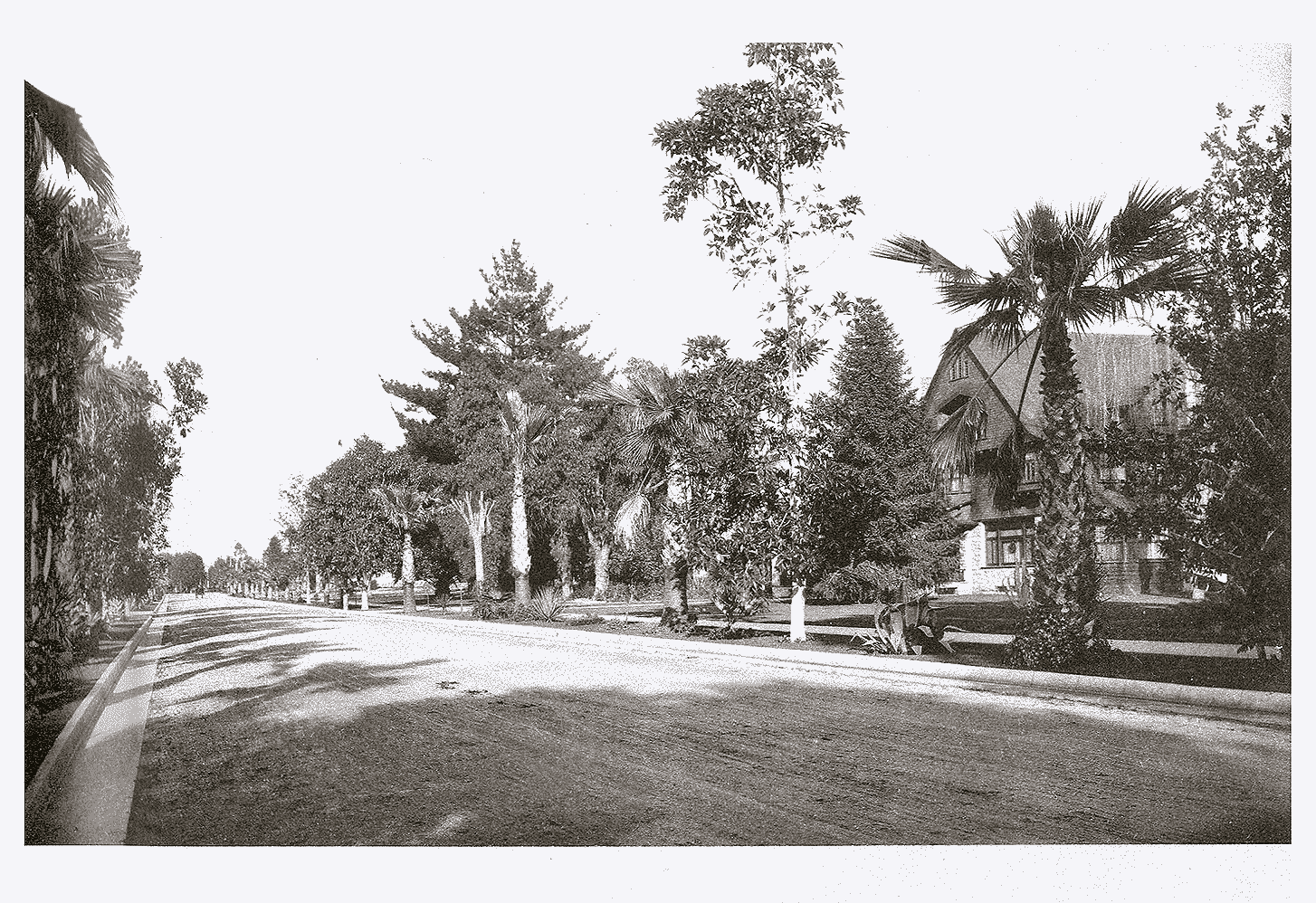 Chester Place was a highly exclusive residential section of Los Angeles. For $120,000 Doheny entered the neighborhood in 1901. George Almer Newhall was a resident of 21 Chester Place. His father was Henry Mayo Newhall as in the City of Newhall and the Henry Mayo medical facilities. Moving back into popular history, which tends to have more interest than very old Los Angeles history, 21 Chester Place was the home of the Adam's family in the 1960s television show.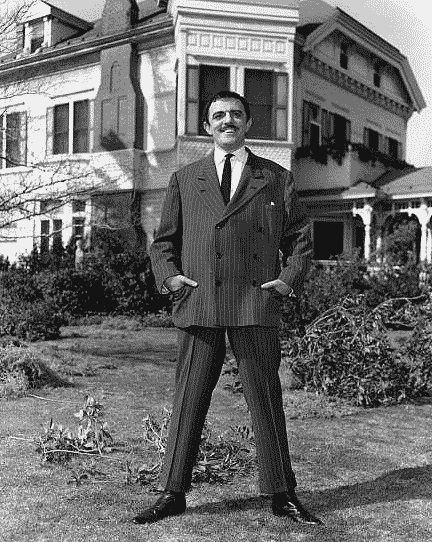 Chester Place was the first gated community in Los Angeles. It was located in the country by the University of Southern California, an area Isaias Hellman, financier of the West and donor of the land for USC, walked with his wife on Sundays.
Wilshire Boulevard was primarily residential until Gaylord Wilshire changed its zoning building by building. Los Angeles' greatest architecture was built along Wilshire Boulevard from 1919 through the 1960s. Bullock's Wilshire was the first department store with parking in the back. It, now my alma mater's law school building, and other buildings on Wilshire Boulevard are many of Los Angeles' greatest examples of Art Deco architecture. Car hops and the first supermarket in Los Angeles were along Wilshire Boulevard. The street grew with the city, towards the Pacific Ocean, and terminates in downtown Los Angeles at 1 Wilshire Boulevard which today is the fiber optic communications hub of the West Coast.
Los Angeles Historian
During the 1970s I collected oral accounts of Los Angeles, witnessed fading commerce on Broadway, the decline of the Santa Monica outdoor shopping mall, Mid-Wilshire, rundown Hollywood, cruising on Van Nuys Boulevard, single level Sherman Oaks and Encino, agricultural Northridge, the Arco Towers and Bonaventure Hotel. On bicycle, during the 1980s I scoped out residential lot formations tracing where ranches were converted into housing tracts. During the mid to later 1980s I began seriously reading the history of Los Angeles. By the early 1990s my collection of rare images, books, and memorabilia began. Also during this period I began collecting large amounts of computerized data about the buildings and streets of Los Angeles.
By the late 1990s many groups about 20th Century Los Angeles history had formed. Historic walking tours of deco architecture, and extinct Los Angeles began were frequent enough. Telephone books, postcards, menus, matches, and rare books became available on eBay. Images also began appearing on the internet. Around the turn of this century the term, mid-century became commonplace. Forbidden lounge culture, Schulman photography, and homes of the modernists became retro cool. Artifacts of mid-century leisure culture became commodities.
In 2006 I finished a full length novel which weaved together several of Los Angeles' myths. These were the myths that continued to pique the interest of a forty year addict of Los Angeles history. Legend of the Lizard People explored the Los Feliz curse, whether the city would have developed differently had the myth not existed, and the legend of Mayan lizard people underneath the streets of downtown Los Angeles.
In 2014 I started VintageLA, a vintage Los Angeles website on an URL otherwise used for business. The format was WordPress which made it difficult to manipulate text and images. Although the website and posts remain, in 2016 this website received its first content under new a format which allows for more graphically pleasing posts. Because I am a second generation Angelino, and just because it is fun, I too am interested in historical pop culture from the 1940s through the 1980s with particular emphasis on the 1950s through the mid- 1980s. However, my collection and knowledge of Los Angeles history far exceeds quirky suburban trends which now are actually seventy years old. Articles from this period often appeal to a wider audience, and feature fun color images. Some of these articles explain my involvement in the subject.
The mission of this website is to share information about Los Angeles, and particularly the San Fernando Valley which you will not find in other places. More than forty years of study has brought information about the weirdest phenomena, people, and legends of Los Angeles. Images and information from an extensive collection of Los Angeles and California history appears on this site. Articles that appear on this site are largely products of original research. Newspapers, magazines, building records, real estate records, pictures, books from long ago, historic pamphlets, brochures, maps, telephone books, and accounts of long ago will be thoroughly researched. At times bricks will be counted to determine if they are in the correct formation to match a permit record. If feasible, interviews of witnesses are conducted. The content of the article is then pulled together through all of these means, reliable techniques in journalism, historic research, and analysis of legal documents.
Karl Gerber, Esq., doctorate of law, California State Bar Number 165,855 higher than Governor and Justice Earl Warren, 151,011 higher than Justice Stanley Mosk, 128,903 higher than Governor Edmund Gerald Brown, Jr, 157,642 higher than his father, but lower than 153,997 bar numbers issued since mine, and of course a resident of Tract 1000
---