Moving to the west side of Dixie Canyon and Ventura, on the other side of Ventura Boulevard, enter the lots at 13400-13418 Ventura Boulevard. W.L. Mellenthin, builder of the San Fernando Valley birdhouse tracts, occupied 13402 Ventura Boulevard in 1947. 1961 plans show a 15 X 30 pool fronting Ventura on the lot of 13400 Ventura Boulevard. Rivera Pools was at this site since at least 1959. But so was Royal Pools.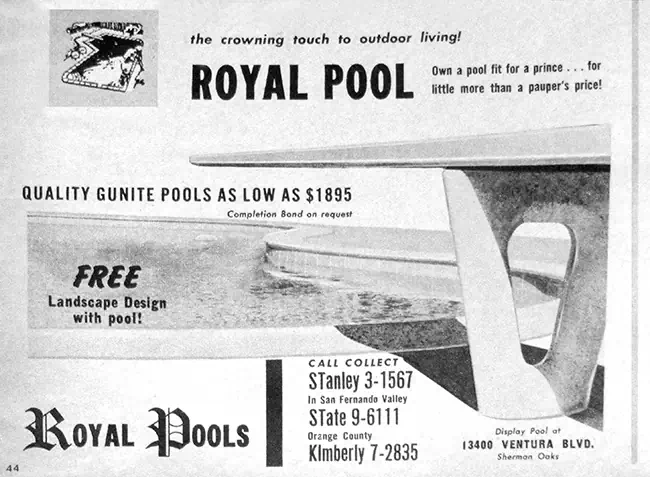 [ 13412 pool drawing 13418 pool drawing ]
1961 permit records show a 380 square foot building was permitted for 13418 Ventura Boulevard as a sales office for Riviera Pools, Inc. also associated with 6715 Reseda Boulevard. The purpose of the building was for a private display swimming pool. Was the pool ever built?
The permit expired in 1962.

Directly across from 13400-13418 Ventura, west of Dixie Canyon, is 13409-13413 Ventura Boulevard which was separated by the Anthony Pool enterprises merely by Dixie Canyon. Interestingly, William Flynn was the owner of 13413 Ventura Boulevard in 1945 when he erected a real estate office there. He also owned the land at 13363 Ventura Boulevard. By 1960 Paddock Pool Construction was onto connecting two buildings on 13409 and 13413 Ventura Boulevard. Four months later they had constructed an 18 by 34 pool with an approved enclosure noted as a (Display Pool Only). The 1961-1962 phonebook for the area shows Paddock pools at this location.

Paddock pools began in the 1920s when they built a public pool in Lancaster. Also, in the 1920s they started using white plaster. They mostly built public pools. Paddock and Ilsey merged in 1936. Ilsley was a landscape architect who in the late 1930s revolutionized the pool industry by building freeform oval shaped pools, and using boulders. In 1940 Ilsley built the first gunite pool. In 1940 Paddock sold his company to Ilsley. In the late 1940s Paddock invented fiberglass pools. In 1963 Paddock was bankrupt and sold its assets to an East Coast Company. Locals claim there were numerous pools between 13400-13412 Ventura during the 1950s.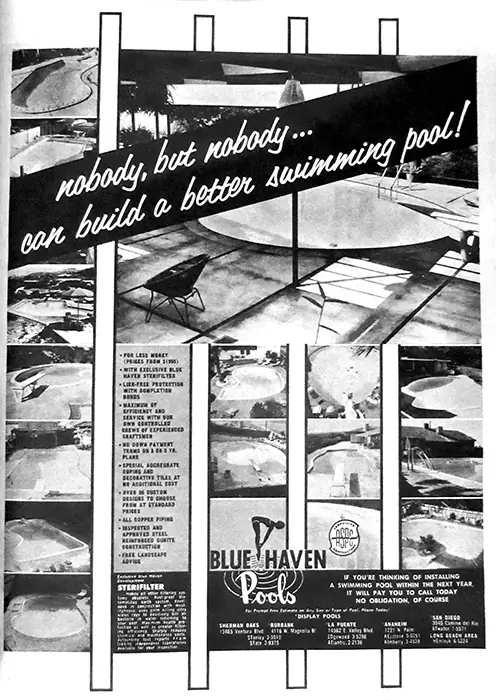 On hot days when the pool companies were not in business minors snuck over the fences (separate enclosures) and used the pools.

[ 13400 pool drawing 13400 pool drawing ]
By the early 1960s there was a minimum of one pool fronting Ventura Boulevard just east of Dixie Canyon on the Southwest corner of Ventura Boulevard in the Anthony Pool location. There was a pool between 13400 Ventura and 13410 Ventura, an additional pool company at 13418 Ventura, and another pool across the street at 13409-13413 which was presumably owned by a Paddock enterprise. Moving east onto the other side of Woodman there was a pool fronting 13721 Ventura Boulevard. By June of 1960 Blue Haven's 30 by 32 display pool was complete at 13865 Ventura Boulevard. In 1960 Lido Pools had a 15 by 30 pool located at 13925 Ventura Boulevard (the present site of McDonald's).